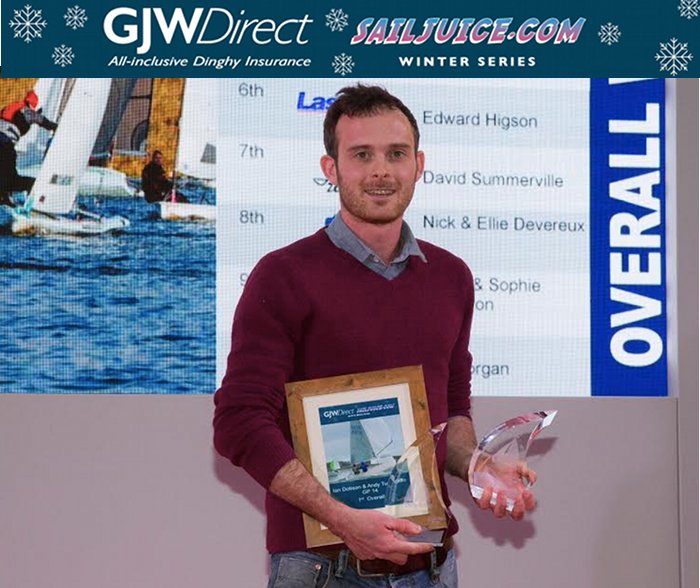 A few weeks ago the seventh edition of the GJW Direct Sailjuice Winter Series came down to a battle of dinghy world champions, with GP14 World Champs Ian Dobson and Andy Tunnicliffe getting the better of Fireball World Champion Tom Gillard, who campaigned over the winter with Andy Couch in a 505.
Dobson and Tunnicliffe, along with many other prizewinners, received their prizes on the main stage at the Suzuki RYA Dinghy Show, with presentations by former Fireball World Champion and Merlin National Champion Richard Parslow, along with SailRacer's Simon Lovesey.

Parslow asked the many prizewinners about their approach to winter racing, with the audience enjoying the top tips from some of Britain's finest dinghy sailors. Photos by Tim Olin, who travelled to all seven events, action-filled videos by VRSport and GPS tracking by SailRacer all helped to illustrate the story of how the winter was won.

Ever since Andy Rice of Sailjuice.com launched the concept seven years ago, one of the primary aims of this winter travellers' series was to find ways of levelling up the playing field. Working closely with SailRacer and the Great Lakes group who have used the RYA PY handicap numbers and further refined them over the years, the Series is producing some of the tightest competition ever seen in small boat handicap racing.

This season, seven events produced seven different winners in a variety of classes (505, Enterprise, RS200, Dart, Musto Skiff, International 14, 420), and of course the overall winner - the GP14. And in seven editions of the GJW Direct SailJuice Winter Series there have been winners from six different classes, the Merlin Rocket being the only one to have produced winners from two seasons.

Sponsors of the Series came on to stage to present prizewinners with their goodies:

GJW Direct - Glen Wallis and John Tuckwell

GUL - Mike Pickering

Harken - Hannah Cotterell

MUSTO - Charlotte Dorris

Congratulations to the prizewinners, not least to Eleanor Craig who topped the standings in two major categories. Here's a list of some of the leading lights from the 2015/16 Series:

Winners

Overall Ian Dobson and Andy Tunnicliffe (GP14)

Top Class - Laser

Trident Top Club - Burghfield Sailing Club

Harken Youth - Nick Devereux (GP14)

Harken Junior - Eleanor Craig (Radial)

GUL Top Lady - Eleanor Craig (Radial)

MUSTO Speed - Ralph Singleton (RS800)



2016/17 Schedule

Meanwhile, plans are already underway for next season, with dates listed below. The Christmas period has tended to be a bit of a logjam, so the Oxford Blue has moved to a February date to ease Yuletide congestion:

Draycote Dash 19-20 November 2016

Datchet Flyer 10-11 December 2016

Brass Monkey 27 December 2016

Grafham GP 2 January 2017

Bloody Mary 7 January 2017

Tiger Trophy 4-5 February 2017

Oxford Blue 18 February 2017



More Cats please

Discussions are also in play with the UK Catamaran Racing Association to get more multihulls taking part in the Series, with the idea of having a miniseries for the cats as well as seeing the cats compete alongside the monohulls. More news of this later in the summer.
26/5/2016 14:20