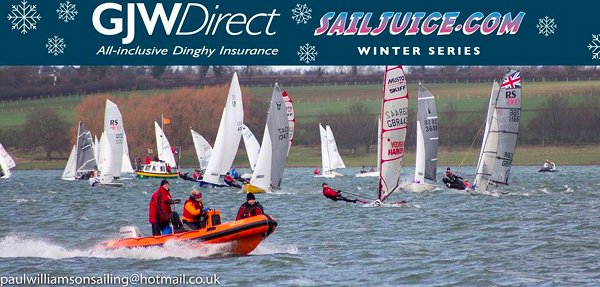 The competitors at this weekend's Rutland Challenge for the John Merricks Tiger Trophy have to be ready for any kind of weather. Could it be windy like last year, when Robbie King and Marcus Tressler charged to victory in their 420? The winning duo from Warsash are back to defend the title, following in the footsteps of John Merricks who won the inaugural Tiger Trophy in a 420 back in 1994, before going on win the 420 World Championships and an Olympic silver medal in a 470 in 1996.
As we see in most of the events in the GJW Direct Sailjuice Winter Series, fast boats tend to fare well in strong winds, slower boats do better in the light, but while the movement of Storm Doris across the UK remains unpredictable, it really is hard to predict a winner this weekend. Saturday is a critical day, with three back-to-back handicap races on the schedule being run by principal race officer David Wilkins and his experienced team at Rutland Water Sailing Club. The Sunday is important too, however, the single Pursuit Race being non-discardable.
Among others hoping for good breeze are World Championship winners such as Ian Pinnell sailing a 505 with Norman Byrd, and Christian Birrell and Vyv Townend among a strong contingent of Fireballs. At the slow-boat end of the spectrum are the likes of professional sailor Charlie Cumbley racing an OK, and former winner of the GJW Direct Sailjuice Winter Series Michael Sims sailing a Solo. Other ones to watch are Series regulars like Craig Williamson in a Laser and Eleanor Craig in a Radial. If the wind remains light throughout the weekend, then reigning 2.4mR World Champion Megan Pascoe also stands a strong chance.
Ian Walker isn't best known for his dinghy skills these days, although he did win that silver medal with John Merricks back in 1996. This weekend, the winning skipper from the last Volvo Ocean Race takes the helm of an RS400 crewed by Keith Bedborough, and with the variable forecast, who would bet against the wily Walker?
Ian is also the guest speaker at the Tiger dinner on the Saturday evening at Rutland Water Sailing Club, where he will no doubt recall John's appetite for playing hard and partying just as hard. When John died in 1997, Ian along with John's father Dennis and other friends of John formed the John Merricks Sailing Trust, with the aim of raising money for other young talents in the UK who show great promise but lack the resources to make the step up to high-level competition. This weekend's Tiger Trophy will raise a few more thousand pounds that will enable the young stars of the future to aim for the kind of success that John achieved in his tragically short life.
If you want to race against Ian Walker and the other top-class competition at Rutland Water this weekend, enter here before midnight tonight (Thursday 2 February) at: www.sailjuiceseries.com
Watch the Tiger preview video here
https://www.youtube.com/watch? v=r8CTQHxAqIU
THE EVENTS
The following regattas constitute the GJW Direct SailJuice Winter Series 2016/2017:
Draycote Dash, Draycote Water Sailing Club
Saturday 19 & Sunday 20 November 2016
Datchet Flyer, Datchet Water Sailing Club
Saturday 10 & Sunday 11 December 2016
Brass Monkey, Yorkshire Dales Sailing Club
Tuesday 27 December 2016
Grafham Grand Prix, Grafham Water Sailing Club
Monday 2 January 2017
Bloody Mary, Queen Mary Sailing Club
Saturday 7 January 2017
John Merricks Tiger Trophy, Rutland Sailing Club
Saturday 4 & Sunday 5 February 2017
Oxford Blue, Oxford Sailing Club
Saturday 18 February 2017
Article Author Andy Rice 2/2/2017 13:15