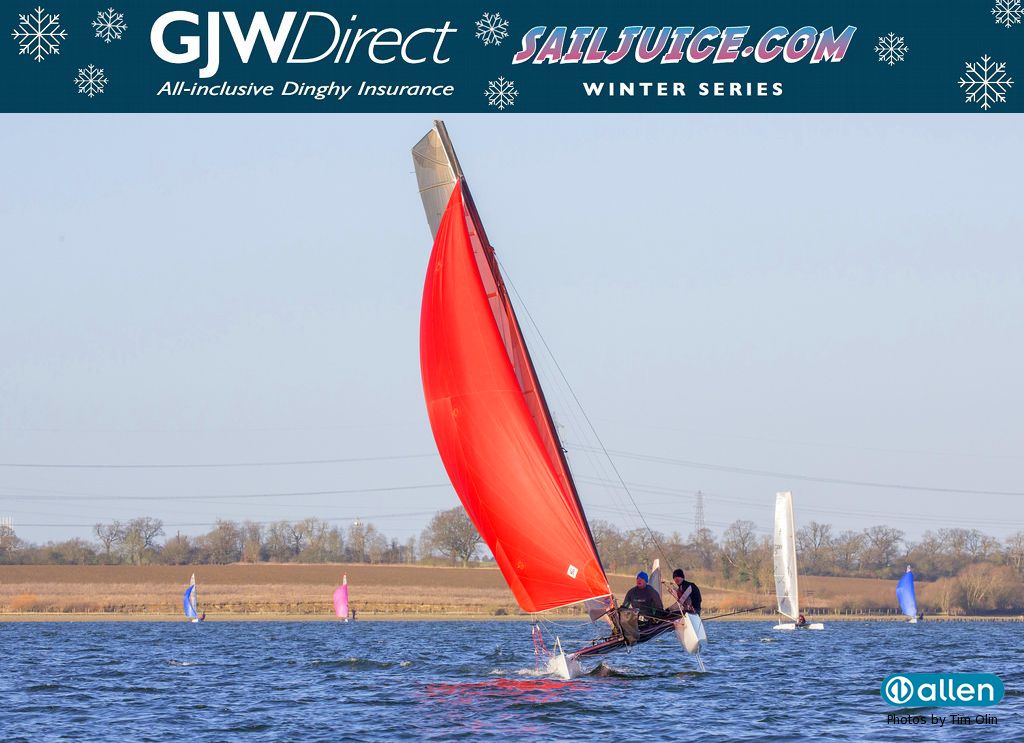 Local boats dominated the 36th Grafham Grand Prix, the fourth event of the GJW Direct Sailjuice Winter Series, which took place in moderate north-westerly winds on Monday 2 January.
Results In total, 192 boats entered, the largest entry for this event so far this century. The home club swelled the entry lists with an impressive 50 entries. The racing was split across three race tracks, a fast fleet sailing an upwind/downwind course and medium and slow fleets each sailing trapezoid courses. There were 42 entries for the fast fleet with 73 and 77 for the medium and slow fleets respectively.
In all 50 different classes were represented, both monohulls and catamarans. The largest representation was from the D-Zeros with 22 entries (a particularly strong showing for a class in only its third year), followed by Lasers with 20. There were good turnouts from some of the traditional classes – 11 Merlin Rockets, nine Fireballs and nine Solos, and also from some of the RS classes with nine each of RS400s, 200s and RS Aero 7s. The resurgence of the RS600 continued with eight entrants.
Photos Though conditions were cold, the sun shone all day. The wind was a moderate 8 to 12 knots from the North West, pretty much blowing straight down the lake and meaning courses were spread over the whole of Grafham's three-mile length. A feature on all three courses was that the faster boats seemed to come out on top after handicap adjustment.
This was also the second event of the inaugural Winter Cat Series and Grafham's David White and Jon Sweet put the hammer down aboard their Formula 18 to take a clean sweep with three victories in the fast handicap fleet. Behind the top cat was the RS400 of Chris Pickles and Matt Sharman from Delph Sailing Club who counted a 3,2 to beat the third placed Musto Skiff of Ben Schooling (Stokes Bay SC) by two points. Just a point back in fourth place was the Formula 16 catamaran sailed by Will Sunnucks and Megan Smith from Brightlingsea.
In the medium handicap fleet, Grafham's David Goudie discarded a 5 th in the first race and counted two bullets to win his division by a point ahead of former Fireball World Champions Christian Birrell and Vyv Townend from Bough Beech SC. A former Fireball National Champion, Notts County's Kevin Hope, was third with Russell Thorne, just half a point in front of fourth-placed Osprey from Warsash sailed by Philip and Bryony Meakins.
Making it a Grafham clean-sweep were Ben Saxton and Izzy Hamilton who raced their RS200 to a straightforward victory in the slow handicap fleet over Matt Mee and Emma Norris from Burghfield, whose RS200 won the previous two events in the Series at Datchet and Yorkshire Dales. Behind the top two RS200s was the first singlehander, a Laser sailed by Alistair Goodwin from Haversham Sailing Club.
Special thanks to the three race officers, Peter Saxton, Graham Louth, and Peter Baldwin, along with their hard-working teams who kept things moving throughout the day, with the last competitor finishing at around 2.15pm after three back-to-back races.
Meanwhile, entries are pouring in for this Saturday's Bloody Mary, the fifth event of the GJW Direct Sailjuice Winter Series, with almost 200 boats entered with just over 24 hours remaining before advance online entry closes at midnight, Wednesday 4 January.
To enter the Bloody Mary, and see all the results so far, go to www.sailjuiceseries.com
Event report by John Aston and Andy Rice
THE EVENTS
The following regattas constitute the GJW Direct SailJuice Winter Series 2016/2017:
Draycote Dash, Draycote Water Sailing Club
Saturday 19 & Sunday 20 November 2016
Datchet Flyer, Datchet Water Sailing Club
Saturday 10 & Sunday 11 December 2016
Brass Monkey, Yorkshire Dales Sailing Club
Tuesday 27 December 2016
Grafham Grand Prix, Grafham Water Sailing Club
Monday 2 January 2017
Bloody Mary, Queen Mary Sailing Club
Saturday 7 January 2017
John Merricks Tiger Trophy, Rutland Sailing Club
Saturday 4 & Sunday 5 February 2017
Oxford Blue, Oxford Sailing Club
Saturday 18 February 2017
3/1/2017 07:04