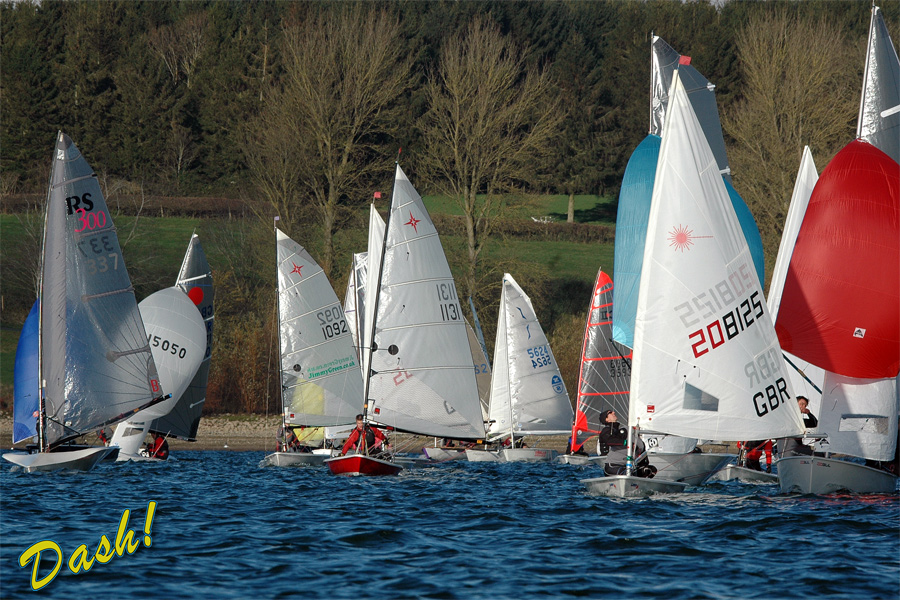 Sailors looking to join in on the action at Draycote Water need to complete online entry before the closing deadline this Sunday, 13 November.
Former Olympic representative Penny Clark is among the entries for the Fernhurst Books Draycote Dash, which kicks off the eighth season of the GJW Direct SailJuice Winter Series on the weekend of 19 & 20 November.
Sailors looking to join in on the action at Draycote Water need to complete online entry before the closing deadline this Sunday, 13 November.
Clark, who competed for Great Britain in the Laser Radial in Beijing 2008, is crewing for her husband and former Olympic coach Russ Clark in a RS400, a break from the norm for two sailors that normally sail International Moths out of Stokes Bay Sailing Club.
"The Series is a great way of making us go racing over the winter," said Russ, a first time competitor in the GJW Direct Sailjuice Winter Series. "It's all too easy to stay at our home club and decide to bin it if it isn't perfect. We're looking to compete in most of the seven events this winter."
While the Moth has won events in the Series in moderate conditions, the 'on-off' nature of the Moth's performance made the Clarks decide to go a more traditional route with their boat choice. "We chose the RS400 over taking our foiling Moths as I wanted to sail a competitive boat on handicap from 0-30 kts. There are very few good 'all rounders' so the 400 is the best compromise across the wind strengths. Plus, according to my number one crew, if I capsize us, Penny says she will drive for the next event!"
Other well-known names include some former Fireball National and European Champions including Kevin Hope, Vince Horey and Matt Burge, who can expect to shine if the breeze blows as strong as it did for last year's opening day of the Draycote Dash, which was won by Andy Smith and Tim Needham in a 505. International 14 World Champion Sam Pascoe is trying his hand in the Merlin Rocket crewed by his sister Megan, a world-class Paralympic sailor from the 2.4mR class.
Other regular names that tend to appear in the prizes include Ben Schooling (Musto Skiff), who won the Draycote Dash three years ago, runner-up two years ago Craig Williamson (Laser Standard), Eleanor Craig (Laser Radial) and Ian Morgan (D-Zero).
Racing will consist of three back-to-back handicap races on Saturday, with a pursuit race on the Sunday.
Online briefing for the Draycote Dash
Last year a number of classes scheduled the GJW Direct SailJuice Winter Series as a key part of their calendars, with SailRacer producing class specific extracted results. Any class interested in their own Winter Series as part of the GJW Direct SailJuice Winter Series, please contact Simon.Lovesey@SailRacer.co.uk, with class prizes for any achieving 15+ entries. One of the new classes to make the Series their class winter championships are the Musto Skiffs. You can find out more out here: www.mustoskiff.com
For boats that are eligible for the whole Series, the same seven events are back from last year. Once again, you must count your best four results from these seven events. Of course, you're welcome to enter and compete in as many events as you like - all seven if you're big enough to take on the challenge.
Enter at www.sailjuiceseries.com
Update on prizes
SpeedSix Speed Wall
Who will be the fastest this winter? The Series has partnered with SpeedSix to bring you some great prizes for those achieving top speeds (outright and adjusted) at each of the SailRacer GPS tracked events: Draycote Dash, Datchet Flyer and Oxford Blue. SpeedSix is a performance lubricant and hull coating, designed to give you that extra edge.
In addition to the overall prizes, there will be a number of special categories awards, including:
Dinghy Rope Top Class - based on the best three class results from each race across. Last season the new D-Zero Class couldn't hold onto an early lead and were narrowly pipped by the Laser class at the last event, who scooped the Top Class Award.
Trident Top Club - based on the three best race results for each club. Last season Burghfield won the Trident Vouchers to spend on equipment for their club, seeing off strong challenges from Hill Head and Staunton Harold.
Allen Brothers Best Improver – The performance sailing hardware manufacturer will be running a 'Most Improved' Award programme worth over £500 in prizes. Using relative adjusted race times and leg times where GPS data is available, SailRacer will calculate the boats and crews which have shown the most improvement in their performance over the course of the event.
GUL Top Lady - Enterprise sailor, Anne Jackson and Datchet Flyer winner looked in a strong position to lift the GUL Top Lady Award, but narrowly lost by one point to the young Radial sailor, Eleanor Craig.
Harken Youth and Junior - again last season's youth battle was another closely fought award, with Tom Southwell, D-Zero leading up to the last event. In the end GP14 sailor, Nick Devereux took home the new Harken Youth Trophy. Eleanor Craig in a Radial won the juniors from the 420 of Alexander Hughes and Tom Smith.
THE EVENTS
The following regattas constitute the GJW Direct SailJuice Winter Series 2016/2017:
Draycote Dash, Draycote Water Sailing Club
Saturday 19 & Sunday 20 November 2016
Datchet Flyer, Datchet Water Sailing Club
Saturday 10 & Sunday 11 December 2016
Brass Monkey, Yorkshire Dales Sailing Club
Tuesday 27 December 2016
Grafham Grand Prix, Grafham Water Sailing Club
Monday 2 January 2017
Bloody Mary, Queen Mary Sailing Club
Saturday 7 January 2017
John Merricks Tiger Trophy, Rutland Sailing Club
Saturday 4 & Sunday 5 February 2017
Oxford Blue, Oxford Sailing Club
Saturday 18 February 2017
8/11/2016 15:31