Gilbert & McGrane grab the Tiger by the tail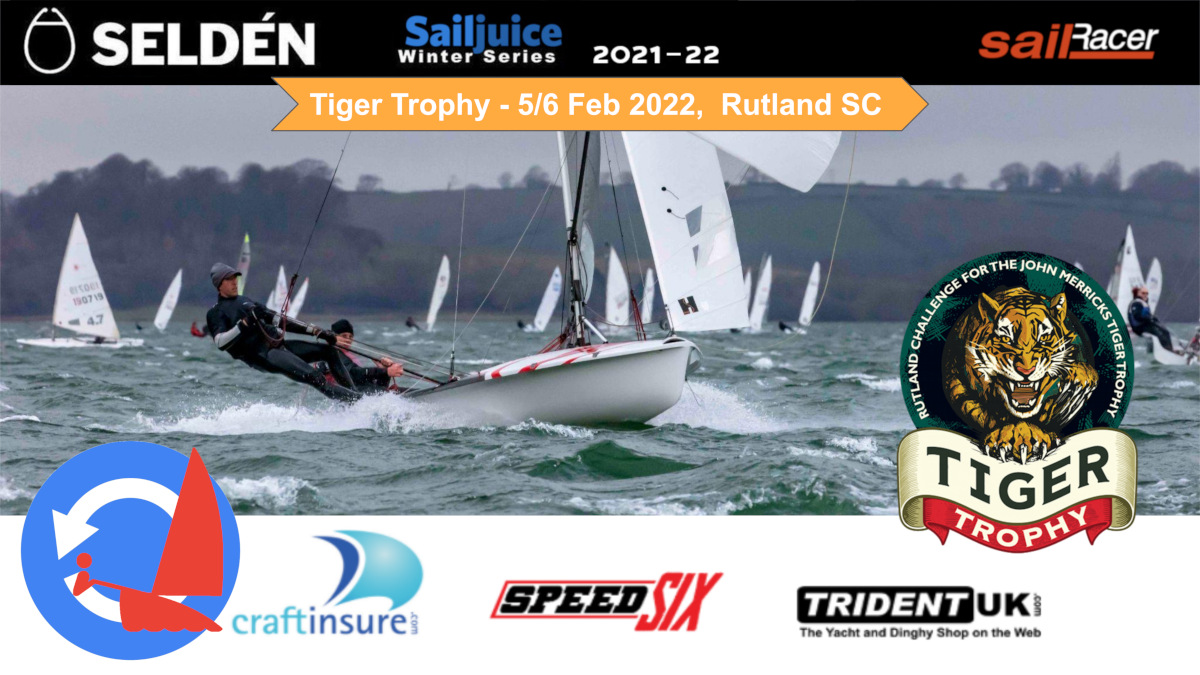 Five-Oh heroes Roger Gilbert & Ben McGrane take their third win of the season in the Seldén SailJuice Winter Series as they storm to victory at an impossibly windy Tiger Trophy at Rutland Water...
Even gusts close to 30 knots proved incapable of knocking Roger Gilbert & Ben McGrane off course from winning the Tiger Trophy in their 505 last weekend. On both days the inland sea at Rutland Water came alive with white horses as the 96-entry fleet decided whether or not they were up to the job of taking on the harshest of the gusts in the high 20s.
Principal race officer David Wilkins has built a reputation for going ahead on day when most race committees might have cancelled. "I like to think in terms of what I would want if I was going to go racing that day as a sailor, and I think I would have wanted to sail," said Wilkins. Then again, he is an Olympic silver medallist (Moscow 1980 in the Flying Dutchman), so maybe he's not the best measure of what's possible for most competitors. "The thing is, we have so many world class competitors coming to race at the Tiger, it would be a shame not to be able to let them show what they're capable of," he said. "If it had been a youth event with some less experienced sailors, I almost certainly would have cancelled racing but I felt the majority of the Tiger fleet were sufficiently competent and capable to take on the conditions. We also set the courses in a way that would allow sailors to bail out and return to the club without putting undue stress on the safety boats."
Those who competed in the even windier Tiger Trophy of 2020 still recall that weekend as one of their best ever sailing days. No wonder there were so many repeat customers this year, with around 80 per cent of the fleet getting on to the water on the Saturday, the remainder deciding to preserve bodies and boats for another day.
Double winners from 2019 and 2020 - two breezy Tigers - were back this year. Except that rather than the 420 which they blasted to consecutive victories in those years, Neil Marsden and Jonny McGovern were out in their 470. A capsize on Saturday in race 1 and broken gear in the pursuit race put paid to their chances.
Marsden and McGovern were certainly in the hunt at times, but the 505s were a class apart. Andy Smith and Stewart Mears took the first of two races on Saturday afternoon, closely followed by Gilbert and McGrane. It was Gilbert and McGrane who took victory in the second race of the afternoon chased by last year's Tiger victors, the evergreen Fireball team of Dave Hall and Paul Constable.
The Tiger Dinner on Saturday night at Rutland Sailing Club was a chance for old friends to catch up again after all the strange times of the past two years. It was also an opportunity to raise a glass to the late John Merricks, Rutland's most famous son who won the first every Tiger Trophy back in the nineties before going to win an Olympic silver medal in the 470 with Ian Walker at the 1996 Games. Dick and Vicky Sanders were welcome guests at the dinner. It was they who started the Tiger Trophy back in the early 90s before it became the John Merricks Tiger trophy after John's death in 1997. The event has continued to support the John Merricks Sailing Trust over the years. Even though the JMST is soon to close its doors after almost a quarter century of excellent charitable work, the Tiger Trophy is looking to continue as a charity event in the future.
Sunday dawned with less wind than forecast at 16 knots gusting to 20 initially and well below forecast. It increased to around 20 during the race with gusts in the mid 20s. Around 60 boats took to the water for the Pursuit Race. Ben Flower in his ILCA 7 (Laser Standard) was chasing Jon Emmett in the ILCA 6 (Laser Radial), but Emmett actually pulled distance on the bigger rigged Lasers. It was an exceptional performance all round by Emmett, as the hiking veteran and multiple Masters world champion held on to third across the line, beaten only by the two 505s, Gilbert/McGrane coming in ahead of Smith/Mears. Behind the leaders there were many capsizes and retirements, but plenty of rescue boats on hand for anyone that required assistance.
It had been a challenging but rewarding experience. Jon Emmett even found the energy to film an interview with Roger Gilbert after the racing, both of them sporting war wounds from the Pursuit Race. You can find out how Roger got his when you watch the video:
https://www.youtube.com/watch?v=N6nPeWZkgtU
"It was a full-on weekend," said Roger. "We thought yesterday was windy, and then today was up again. We were watching the other boats already racing and we said, really? Are they really going to send us out in that? And I'm glad they did! That was a proper weekend's sailing."
While Roger was recovering from his facial injury, so too was Jon Emmett: "I have to be very careful not to hit my head on the boom through the tacks," he said. "Instead I headbutted the deck with my eye on the first tack at the bottom of the course. I actually thought I had damaged the eye because my vision immediately went cloudly. Only after a few seconds I realised my eye was full of blood when I wiped it with my hand."
No regrets for Jon who sailed phenomenally to take third overall in the Tiger, well ahead of many of the faster trapeze boats. Jon has been a regular at all the events over the winter. "For me, a big part of the Seldén SailJuice Winter Series is to put back into the sport after the Olympics and the social aspect of seeing friends in different classes."
There were many other outstanding performances in the fleet, including Val Millward whose 16th place overall earned her prizes for Top Lady and First Senior.
SailRacer trackers were fitted to every boat and recorded some impressive speeds:
Outright Fastest
Roger Gilbert and Ben McGrane -505 9215 18.7 kts
Phil Hardisty, Chris Hill & Pete Richardson - N18 18.5 kts
Fastest adjusted to Great Lakes Handicap
Simon HORSFIELD Katie BURRIDGE - 2000 17.1 kts
Ollie WILLIAMSON-RS Aero 5 2713 - 15.9 kts
David Wilkins paid tribute to all who helped create a memorable weekend: "There are aways a lot of thanks due to many people to make the Tiger happen: to all the competitors who came and for their contribution to JMST; to all the volunteers who made the event possible – Race team, Safety team and all the people on shore – Results, Simon Lovesey for tracking, catering and club office and bosun. And a big thanks to Everards Beer who have supported the Tiger from the very first year through to the present day."
Gilbert and McGrane have won the last two events, a light airs Gallop and a fresh to frightening Tiger. What will the final event of the season bring?Almost 50 are already entered for the Oxford Blue, and it should be a great showdown to this season's competition.
For full results, more info on the Series and to enter the Oxford Blue on 19 February: www.sailjuiceseries.com
THE EVENTS
The following events are in the Seldén SailJuice Winter Series 2021/22:
Fernhurst Books Draycote Dash, Draycote Water SC
Datchet Flyer, Datchet Water Sailing Club
Yorkshire Dales Brass Monkey, Yorkshire Dales SC
Burghfield Breezer, Burghfield Sailing Club
Grafham Grand Prix, Grafham Water Sailing Club
GJW Direct Bloody Mary, Queen Mary Sailing Club
King George Gallop, King George Sailing Club
John Merricks Tiger Trophy, Rutland Sailing Club
Oxford Blue, Oxford Sailing Club
You can find out more about the Series here: www.SailJuiceSeries.com
Photo Credits: Tim Olin
Notes to editors:
Previous winners of the Seldén Sailjuice Winter Series
2020/21
Simon Horsfield & Katie Burridge/ Natalie Johnson (2000)
2019/20
Simon Horsfield & Katie Burridge (2000)
2018/19
Simon Horsfield & Katie Burridge (2000)
2017/18
Alistair Goodwin (Laser)
2016/17
Matt Mee & Emma Norris (RS200)
2015/16
Ian Dobson & Andy Tunnicliffe (GP14)
2014/15
Nick Craig & various crews (Merlin Rocket)
2013/14
Michael Sims (Solo)
2012/13
Tom Gillard & Simon Potts (Fireball)
2011/12
Peter Gray & Rachael Rhodes (Scorpion)
2010/11
Andy Peake (Musto Skiff)
2009/10
Olly Turner & Richard Whitworth (Merlin Rocket)
SailJuice.com is the 'how to sail and race faster' website, with hundreds of articles and exclusive interviews with National, World and Olympic Champions. Professional sailing journalist and editor of SailJuice.com, Andy Rice, came up with the concept of the SailJuice Winter Series (originally known as the SailJuice Global Warm-Up) as a way of increasing participation levels in dinghy racing during the off-season in the UK.
SailRacer manages event websites and processes online entry for major National, International, Youth and training events, providing online scoring, analysis and advanced sports presentation including GPS tracking and live video.
Seldén Mast Ltd is the world leader in dinghy spars. More races are won by Seldén Spars than any other brand. Dinghy spars are made using Seldén unique XPS aluminium with CNC cut tapers, automated welding and heat treating resulting in the highest quality and most consistent dinghy spars available. Seldén's quality, performance, and repeatability also extends to its carbon range, providing carbon spars to high performance dinghies and race yachts throughout the world.
8/2/2022 17:37
Photo © Tim Olin
| | | |
| --- | --- | --- |
| 20/21 Nov 21 | Draycote Dash | Draycote Water SC |
| 11/12 Dec 21 | Datchet Flyer | Datchet Water SC |
| 27 Dec 21 | Brass Monkey | Yorkshire Dales SC |
| 27 Dec 21 | Burghfield Breezer | Burghfield SC |
| 2 Jan 22 | Grafham GP | Grafham Water SC |
| 8 Jan 22 | Bloody Mary | Queen Mary SC |
| 22 Jan 22 | King George Gallop | King George SC |
| 5/6 Feb 22 | JMST Tiger Trophy | Rutland SC |
| 19 Feb 22 | Oxford Blue | Oxford SC |