Gilbert Gallops to victory in 3-way photo finish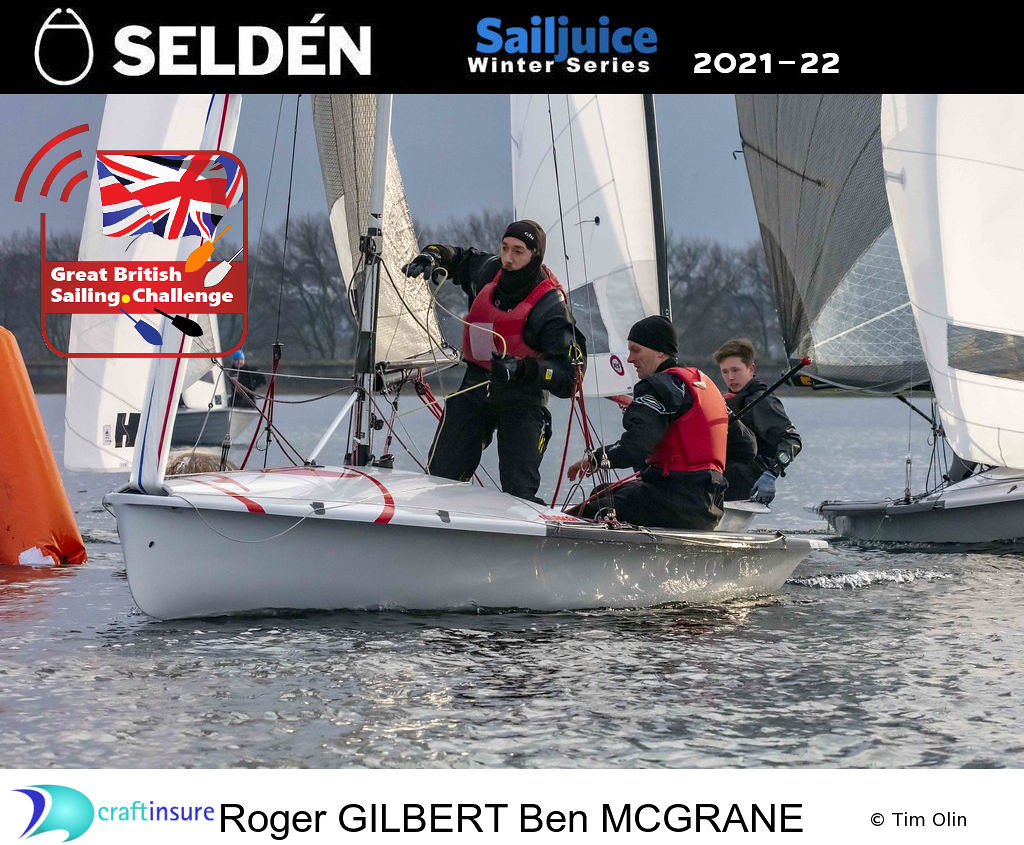 Roger Gilbert & Ben McGrane win the sell-out King George Gallop, their second victory in this season's Seldén SailJuice Winter Series.
Roger Gilbert & Ben McGrane came out on top of a three-way tiebreak to win the King George Gallop on Saturday. The fourth event of this season's Seldén SailJuice Winter Series attracted a sell-out entry of 70 boats representing 30 different dinghy classes ranging in size and speed from the Topper singlehander to the 505 thoroughbred.
Their second victory of the Series, Gilbert & McGrane's 505 counted a 1st and 3rd from their best two of three races on a light wind day in North London. Luke Fisher's RS Vareo also counted a 1st and 3rd but finished second overall on tiebreak, pushing back Tom Gillard and Rachael Gray's Merlin Rocket to third overall, scoring two 2nds from the day.
Fireball and Solo supremo Vince Horey was principal race officer for King George Sailing Club. He made the best of a shifty SW to NW breeze of around 7 to 10 knots, managing some good zigzag courses across the reservoir to give something for every boat type to enjoy on the varied race track.
The SailRacer GPS trackers recorded the winning 505 as the fastest boat on the water with a sustained 8.44 knots, marginally faster than Steve Cockerill and Harry Kennedy in the RS400 who clocked up 8.33 knots. Under corrected handicap, highest sustained speed was achieved by Luke Fisher's Vareo, followed by Cockerill/Kennedy and Nigel Austin's D-Zero.
This was the first competitive outing for an RS Aero 6, with the highest place finisher being Sam Mettam in 26th place. There were eight different classes represented in the top 10 overall, and it's a mark of Gilbert and McGrane's performance in their Seldén-powered 505 that their class rivals and former double 505 World Champions Mark Upton-Brown and Ian Mitchell finished in 10th overall. Success at the Gallop was measured in seconds and inches, small margins making a big difference on the scoreboard.
King George SC did a great job of delivering round 4 of the Series with close observance of Covid safety. There was no prizegiving on site. Instead there was a Facebook Live presentation, looking back at a great King George Gallop 22, including all the category rankings from Seldén SailJuice Winter Series Round 4.
Next event in two weeks' time is the JMST Tiger Trophy 5/6 Feb 22 at Rutland SC.
https://enter.sailracer.org/events/enter-series-mobile.asp?eventid=222049&templ=220051_register
To put your name down for the racing and the legendary Tiger Dinner on Saturday night, enter below. Entries are already building up nicely:
ENTER THE TIGER TROPHY HERE: www.sailjuiceseries.com
The following events are in the Seldén SailJuice Winter Series 2021/22:
Fernhurst Books Draycote Dash, Draycote Water SC
Datchet Flyer, Datchet Water Sailing Club
Burghfield Breezer, Burghfield Sailing Club
King George Gallop, King George Sailing Club
John Merricks Tiger Trophy, Rutland Sailing Club
Oxford Blue, Oxford Sailing Club
Previous winners of the Seldén Sailjuice Winter Series
2020/21
Simon Horsfield & Katie Burridge/ Natalie Johnson (2000)
2019/20
Simon Horsfield & Katie Burridge (2000)
2018/19
Simon Horsfield & Katie Burridge (2000)
2017/18
Alistair Goodwin (Laser)
2016/17
Matt Mee & Emma Norris (RS200)
2015/16
Ian Dobson & Andy Tunnicliffe (GP14)
2014/15
Nick Craig & various crews (Merlin Rocket)
2013/14
Michael Sims (Solo)
2012/13
Tom Gillard & Simon Potts (Fireball)
2011/12
Peter Gray & Rachael Rhodes (Scorpion)
2010/11
Andy Peake (Musto Skiff)
2009/10
Olly Turner & Richard Whitworth (Merlin Rocket)
SailJuice.com is the 'how to sail and race faster' website, with hundreds of articles and exclusive interviews with National, World and Olympic Champions. Professional sailing journalist and editor of SailJuice.com, Andy Rice, came up with the concept of the SailJuice Winter Series (originally known as the SailJuice Global Warm-Up) as a way of increasing participation levels in dinghy racing during the off-season in the UK.
SailRacer manages event websites and processes online entry for major National, International, Youth and training events, providing online scoring, analysis and advanced sports presentation including GPS tracking and live video.
Seldén Mast Ltd is the world leader in dinghy spars. More races are won by Seldén Spars than any other brand. Dinghy spars are made using Seldén unique XPS aluminium with CNC cut tapers, automated welding and heat treating resulting in the highest quality and most consistent dinghy spars available. Seldén's quality, performance, and repeatability also extends to its carbon range, providing carbon spars to high performance dinghies and race yachts throughout the world.
26/1/2022 11:58
| | | |
| --- | --- | --- |
| 20/21 Nov 21 | Draycote Dash | Draycote Water SC |
| 11/12 Dec 21 | Datchet Flyer | Datchet Water SC |
| 27 Dec 21 | Brass Monkey | Yorkshire Dales SC |
| 27 Dec 21 | Burghfield Breezer | Burghfield SC |
| 2 Jan 22 | Grafham GP | Grafham Water SC |
| 8 Jan 22 | Bloody Mary | Queen Mary SC |
| 22 Jan 22 | King George Gallop | King George SC |
| 5/6 Feb 22 | JMST Tiger Trophy | Rutland SC |
| 19 Feb 22 | Oxford Blue | Oxford SC |