RS Aero 6 to make its handicap debut at King George Gallop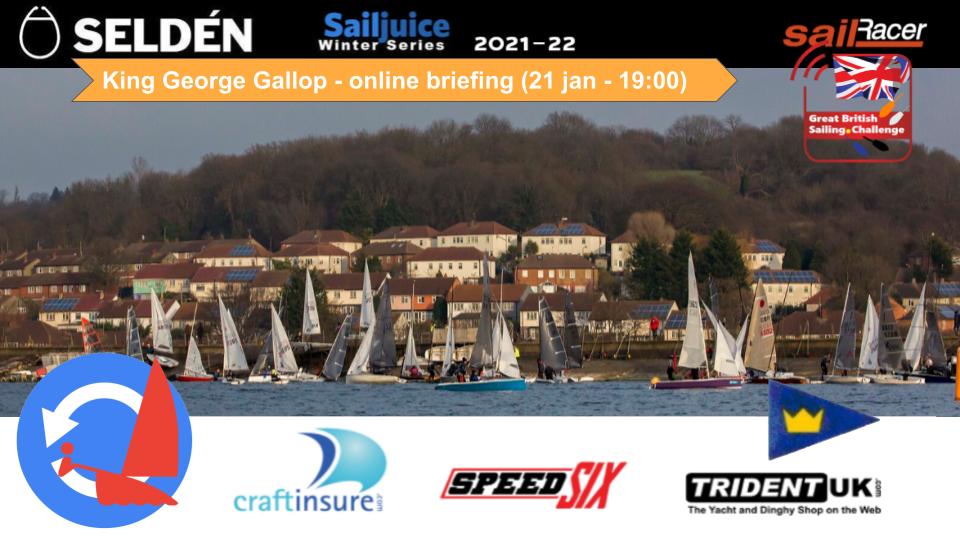 A few RS Aero 6s are lining up for the next event in the Seldén SailJuice Winter Series, the King George Gallop this Saturday 22 January. Online briefing Friday (19:00)
Entries for the King George Gallop have almost reached the limit of 70 boats for this Saturday's handicap contest in North London. First held four years ago as part of the Seldén SailJuice Winter Series, the North London club has quickly built a reputation for a friendly welcome and well-run racing.
Among the mixed entry of 60 boats entered thus far are three RS Aero 6s to be raced by Sam Mettam, Sam Blaker and Chris Rust. Class manager Peter Barton will also be there in an RS Aero 7, and had this to say about the RS Aero 6's competitive debut: "Interest in the new RS Aero 6 rig is high and current owners are jumping at the opportunity to test the Class' demo rigs in the Selden SailJuice Winter Series whilst they wait for deliveries of the first RS Aero 6 rigs this spring.
"The Class has built experience with the RS Aero 6 over three years now during testing, training and some of our events, gaining comparisons alongside the other RS Aero rig sizes and other similar classes. The Great Lakes Handicap committee assigned the new RS Aero 6 a number just quicker than the mid-point between the RS Aero 5 & 7 rig numbers. That is approximately in line with the relative sail size and experience gained to date, but with a little conservatism added whilst more data is gathered. It will be interesting to see how the new RS Aero 6 rigs fare over a range conditions in the remaining SailJuice events this winter."
A smattering of the usual 'big names' from the dinghy world will be there, including Nick Craig & Toby Lewis in the GP14, Steve Cockerill & Harry Kennedy in an RS400 along with perennial Fireball performers, Dave Hall & Paul Constable. International Moth legend from the late 70s and early 80s, Michael Iszatt will be racing an RS600 at his home club. All three winners of the events held thus far this winter are continuing their campaigns for the overall winter title: Draycote Dash winners Roger Gilbert & Ben McGrane in their 505; Datchet Flyer winners Tom Gillard & Rachael Gray in their Merlin Rocket; and Burghfield Breezer winners Nigel & Andy Bird in their Enterprise.
The Gallop now sees 18 boats from the top 20 overall standings entered, so it's great to see so many doing their utmost to win the Series.
Interestingly all three winners so far this season use Selden masts, as the company's OEM Account Manager Rich Thoroughgood observed: "It's great to see our rigs at the front of the fleet, if you count Nigel & Andy Bird's Proctor mast in their Enterprise. Proctor became part of Seldén Mast more than 20 years ago, so it goes to show how long a well-built mast can keep you at the front of the fleet. What we're also keen to do with our support of the Seldén SailJuice Winter Series is to highlight our Seldén deck hardware which we have been developing for a number of years now. We've already handed out Seldén ratchet blocks as prizes for the Datchet Flyer and it's good to be putting this high-quality equipment into the hands of some of the most passionate and dedicated sailors on the UK dinghy circuit."
King George Sailing Club (KGSC) will be adhering strictly to the UK Government's current Covid guidelines. An online briefing be delivered via zoom at 7.00pm on Friday 20th January. This will be recorded and remain available on Youtube over the weekend.
With a maximum entry of 70 boats, time is fast running out to enter. But click here and see if you can secure one of the final spots for the Gallop.
ENTER THE KING GEORGE GALLOP HERE: www.sailjuiceseries.com
THE EVENTS
The following events are in the Seldén SailJuice Winter Series 2021/22:
Fernhurst Books Draycote Dash, Draycote Water SC
Datchet Flyer, Datchet Water Sailing Club
Yorkshire Dales Brass Monkey, Yorkshire Dales SC
Burghfield Breezer, Burghfield Sailing Club
Grafham Grand Prix, Grafham Water Sailing Club
GJW Direct Bloody Mary, Queen Mary Sailing Club
King George Gallop, King George Sailing Club
John Merricks Tiger Trophy, Rutland Sailing Club
Oxford Blue, Oxford Sailing Club
You can find out more about the Series here: www.SailJuiceSeries.com
Photo Credits: Tim Olin
Notes to editors:
Previous winners of the Seldén Sailjuice Winter Series
2020/21
Simon Horsfield & Katie Burridge/ Natalie Johnson (2000)
2019/20
Simon Horsfield & Katie Burridge (2000)
2018/19
Simon Horsfield & Katie Burridge (2000)
2017/18
Alistair Goodwin (Laser)
2016/17
Matt Mee & Emma Norris (RS200)
2015/16
Ian Dobson & Andy Tunnicliffe (GP14)
2014/15
Nick Craig & various crews (Merlin Rocket)
2013/14
Michael Sims (Solo)
2012/13
Tom Gillard & Simon Potts (Fireball)
2011/12
Peter Gray & Rachael Rhodes (Scorpion)
2010/11
Andy Peake (Musto Skiff)
2009/10
Olly Turner & Richard Whitworth (Merlin Rocket)
SailJuice.com is the 'how to sail and race faster' website, with hundreds of articles and exclusive interviews with National, World and Olympic Champions. Professional sailing journalist and editor of SailJuice.com, Andy Rice, came up with the concept of the SailJuice Winter Series (originally known as the SailJuice Global Warm-Up) as a way of increasing participation levels in dinghy racing during the off-season in the UK.
SailRacer manages event websites and processes online entry for major National, International, Youth and training events, providing online scoring, analysis and advanced sports presentation including GPS tracking and live video.
Seldén Mast Ltd is the world leader in dinghy spars. More races are won by Seldén Spars than any other brand. Dinghy spars are made using Seldén unique XPS aluminium with CNC cut tapers, automated welding and heat treating resulting in the highest quality and most consistent dinghy spars available. Seldén's quality, performance, and repeatability also extends to its carbon range, providing carbon spars to high performance dinghies and race yachts throughout the world.
20/1/2022 10:19
| | | |
| --- | --- | --- |
| 20/21 Nov 21 | Draycote Dash | Draycote Water SC |
| 11/12 Dec 21 | Datchet Flyer | Datchet Water SC |
| 27 Dec 21 | Brass Monkey | Yorkshire Dales SC |
| 27 Dec 21 | Burghfield Breezer | Burghfield SC |
| 2 Jan 22 | Grafham GP | Grafham Water SC |
| 8 Jan 22 | Bloody Mary | Queen Mary SC |
| 22 Jan 22 | King George Gallop | King George SC |
| 5/6 Feb 22 | JMST Tiger Trophy | Rutland SC |
| 19 Feb 22 | Oxford Blue | Oxford SC |