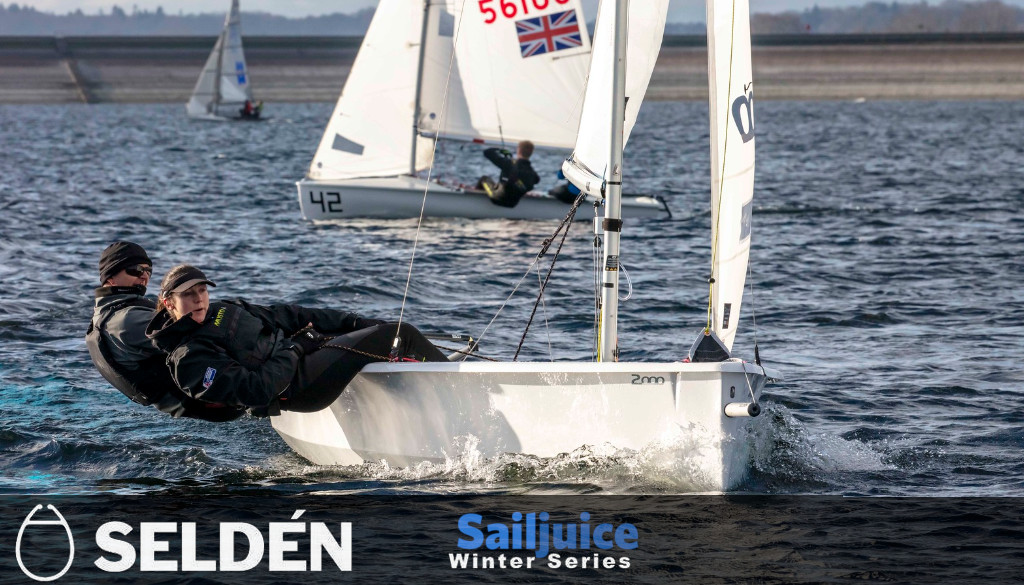 Simon Horsfield & Katie Burridge, along with stand-in crew Natalie Johnson, have won the Seldén Sailjuice Winter Series 2020-2021. This is the third consecutive victory for Horsfield & Burridge - an unprecedented achievement in the short but hard-fought history of the Seldén Sailjuice Winter Series.
The unstoppable team from Army Sailing Association/ Thorney Island Sailing Club were pushed hard for overall victory by Luke Fisher from Emberton Park who sailed his RS Vareo singlehander impeccably. Fisher finished on 15.7 points from his best three out of four events, not quite enough to topple the 2000 which ended up with 12.4 points.
Third place on the podium goes to Patrick Overs' Solo from Paxton Lakes SC, with fourth also going to a Paxton Lakes sailor, Paul Carrington and his Streaker.
This was the strangest of Winter Series, not least because it concluded in late August with the John Merricks Tiger Trophy at Rutland Sailing Club. Along with Rutland, the other participating clubs that managed to make events happen through all the stresses and uncertainties of the Covid pandemic deserve great credit.
The only winter event that went ahead on schedule was the Datchet Flyer last December, so with the decision to extend the Series into the warm months of 2021, it was great to see the first ever Grafham Belle go ahead in May and the Medway Marathon step into the breach at late notice in June.
There were a number of sub-category competitions as part of the overall Series. Details of the winners from these categories will be announced soon.
Once again the Great Lakes Handicap numbers, a well-proven variation on the standard RYA numbers, continued to place a wide variety of classes in the top 10 of most events.
Thanks always go to the sponsors - Seldén, Trident, Craftinsure, SpeedSix and Restart Sailing - and to the organising clubs, staff and volunteers, as well as Tim Olin for his tireless work taking photos of every boat on the water. This was the toughest season yet but it got done, a credit to all involved.
During last winter when so little sailing was able to take place, Series organisers Simon Lovesey and Andy Rice helped keep the conversation and enthusiasm going by hosting some informative and entertaining Facebook Live sessions looking at the history of dinghy sailing from a number of angles.
https://www.facebook.com/SeldenSailJuiceWinterSeries
The full list of webinars is shown below, and still able to be viewed online.
Details of the upcoming Series for 2021 to 2022 will be announced soon.
THE EVENTS
The following events counted towards the scoring of the Seldén SailJuice Winter Series 2020/21:
Datchet Flyer, Datchet Water SC, 6-7 December 2020
Grafham Belle, Grafham Water SC, 29-30 May 2021
Medway Marathon, Medway YC, 19 June 2021
Tiger Trophy, Rutland Water SC, 28-29 August 2021
You can find out more about the Series here: www.SailJuiceSeries.com
THE FACEBOOK LIVE EVENTS THAT TOOK PLACE DURING THE 'WINTER OF DISCONTENT'...
Facebook Live - History of the Tiger Trophy
https://fb.watch/3CaKv8q3cz/
Facebook Live - Innovating for Better Racing
https://fb.watch/3Cd8SPHLbd/
Facebook Live - History of the Bloody Mary
https://fb.watch/3aWorFCHRv/
Facebook Live - Great Lakes Handicap System
https://fb.watch/2Ua5cxXeEn/
Facebook Live - Winter Winners, Past & Present
https://fb.watch/2Uak0QX6-p/
Facebook Live - History of the Draycote Dash
https://fb.watch/2UaefNdGJE/
Photo Credits: Tim Olin
Notes to editors:
Previous winners of the Seldén Sailjuice Winter Series
2020/21 Simon Horsfield & Katie Burridge/ Natalie Johnson (2000)
2019/20 Simon Horsfield & Katie Burridge (2000)
2018/19 Simon Horsfield & Katie Burridge (2000)
2017/18 Alistair Goodwin (Laser)
2016/17 Matt Mee & Emma Norris (RS200)
2015/16 Ian Dobson & Andy Tunnicliffe (GP14)
2014/15 Nick Craig & various crews (Merlin Rocket)
2013/14 Michael Sims (Solo)
2012/13 Tom Gillard & Simon Potts (Fireball)
2011/12 Peter Gray & Rachael Rhodes (Scorpion)
2010/11 Andy Peake (Musto Skiff)
2009/10 Olly Turner & Richard Whitworth (Merlin Rocket)
SailJuice.com is the 'how to sail and race faster' website, with hundreds of articles and exclusive interviews with National, World and Olympic Champions. Professional sailing journalist and editor of SailJuice.com, Andy Rice, came up with the concept of the SailJuice Winter Series (originally known as the SailJuice Global Warm-Up) as a way of increasing participation levels in dinghy racing during the off-season in the UK.
SailRacer manages event websites and processes online entry for major National, International, Youth and training events, providing online scoring, analysis and advanced sports presentation including GPS tracking and live video.
Seldén Mast Ltd is the world leader in dinghy spars. More races are won by Seldén Spars than any other brand. Dinghy spars are made using Seldén unique XPS aluminium with CNC cut tapers, automated welding and heat treating resulting in the highest quality and most consistent dinghy spars available. Seldén also produces about 400 carbon masts per year for boats including high performance dinghies and race yachts using state of the art Mandrel Filament Moulding Technology.
15/9/2021 09:13