DIVERSE DINGHY LINE-UP FOR END OF MAY'S GRAFHAM BELLE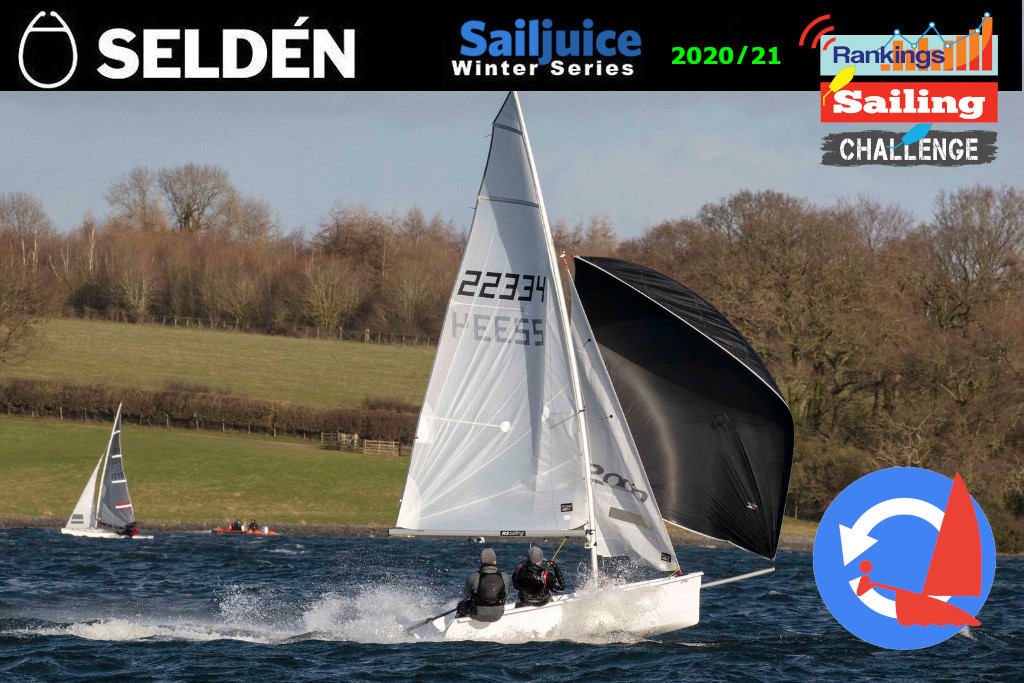 Reigning champions of the Seldén SailJuice Winter Series, Simon Horsfield and Katie Burridge, are set to race their 2000 doublehander at the Grafham Belle on the weekend of Saturday 29 May and Sunday 30 May.
With a maximum entry limit of 75 boats, this multiclass handicap event at Grafham Water Sailing Club is likely to book to capacity. After so little in the way of open meeting or championships activity in the past year of UK lockdown, the Grafham Belle aims to offer good handicap competition made as fair as possible by the Great Lakes numbers, one of the most respected variations on the standard RYA PY numbers.
With two weeks to go, the event is already attracting a diverse range of entries from the dinghy scene. Singlehanders such as the Solo, Streaker, Phantom and Laser Radial will do battle against each other, while the Albacore and RS400 represent variations on the classic hiking doublehanders although will have to be at the top of their game to beat the 2000 of Horsfield/Burridge from Thorney Island Sailing Club.
At the faster end of the spectrum are the 4000 of Neil Heffernan/ Jo Morrison from Queen Mary SC, Minnis Bay SC's Craig Thompson and Paddy Lewis in a 505 and Maidenhead SC's Ian Stone in a Musto Skiff. Blithfield's Andy Couch has proven himself a class act in a range of classes including the Phantom and 505 but for Grafham he'll be steering a VX One sportsboat around the track. If it's light to medium airs for the weekend, Colin and Oly Murray's Norfolk Punt will be very fast and hard to beat. If you've never seen a Norfolk Punt in the flesh, by the way, events such as the Grafham Belle are a great way to find out, and to enjoy the full array of small boats in Great Britain's vibrant dinghy scene. It's like a Dinghy Show on water!
Meanwhile, we have to remember that open meetings have to proceed in a safety-first manner. Co-organiser of the Seldén SailJuice Winter Series, Simon Lovesey, has been promoting the continuation of sailing wherever possible within COVID guidelines, via his non-for-profit organisation RestartSailing which he established during National Lockdown #1 in spring 2020. Simon said: "We are working with sailing clubs that are keen to make things happen wherever it is possible to do so in a safe, COVID-compliant manner. While other clubs have not been able to go forward with their planned events, it's great that Grafham is going ahead with the Grafham Belle. With its long foreshore and multiple slipways, it should be very possible for everyone to launch and recover their boats whilst maintaining good social distancing."
All the boats will carry GPS trackers provided by SailRacer, which help spectators to follow the action both on site and online, and also determine the results from some of the sub-category competitions as part of the Great British Sailing Challenge (GBSC).
Prize and Ranking Categories
SpeedSix Challenge for fastest boat on handicap
Trident Top Club
Craftinsure Family Ranking
RestartSailing Top Class
GBSC Youth, GBSC Junior, GBSC 19-30, GBSC 31-60, GBSC Masters, GBSC Top Lady
GBSC Fast Asymmetric, GBSC Slow Asymmetric, GBSC Fast Symmetric, GBSC Slow Symmetric
Co-organisers Andy Rice and Simon Lovesey are working with title sponsor Seldén Mast to continue to run the 2020/21 edition of the Seldén SailJuice Winter Series through to a concluding event at Rutland Water, the rescheduled John Merricks Tiger Trophy on the last weekend of August.
With so many of the original events cancelled over the winter, and only the Datchet Flyer able to take place in December 2020, other events this spring/summer have been brought in to create some kind of Series before, hopefully, we see a return to normality for this winter's edition of the Seldén SailJuice Winter Series.
Current leader of the revamped Series, because of his victory at Datchet last December, is Ian Dobson in a Solo. Horsfield & Burridge sailed their 2000 to runners-up at the first event, so go to Grafham well placed overall.
THE EVENTS
The following events will count towards the scoring of the Seldén SailJuice Winter Series 2020/21:
Datchet Flyer, Datchet Water SC, 6-7 December 2020
Grafham Belle, Grafham Water SC, 29-30 May 2021
Bala Long Distance, Bala SC, 19-20 June 2021
Tiger Trophy, Rutland Water SC, 28-29 August 2021
You can find out more about the Series here: www.SailJuiceSeries.com
Photo Credits: Tim Olin
Notes to editors:
Previous winners of the Seldén Sailjuice Winter Series
2019/20 Simon Horsfield & Katie Burridge (2000)
2018/19 Simon Horsfield & Katie Burridge (2000)
2017/18 Alistair Goodwin (Laser)
2016/17 Matt Mee & Emma Norris (RS200)
2015/16 Ian Dobson & Andy Tunnicliffe (GP14)
2014/15 Nick Craig & various crews (Merlin Rocket)
2013/14 Michael Sims (Solo)
2012/13 Tom Gillard & Simon Potts (Fireball)
2011/12 Peter Gray & Rachael Rhodes (Scorpion)
2010/11 Andy Peake (Musto Skiff)
2009/10 Olly Turner & Richard Whitworth (Merlin Rocket)
SailJuice.com is the 'how to sail and race faster' website, with hundreds of articles and exclusive interviews with National, World and Olympic Champions. Professional sailing journalist and editor of SailJuice.com, Andy Rice, came up with the concept of the SailJuice Winter Series (originally known as the SailJuice Global Warm-Up) as a way of increasing participation levels in dinghy racing during the off-season in the UK.
SailRacer manages event websites and processes online entry for major National, International, Youth and training events, providing online scoring, analysis and advanced sports presentation including GPS tracking and live video.
Seldén Mast Ltd is the world leader in dinghy spars. More races are won by Seldén Spars than any other brand. Dinghy spars are made using Seldén unique XPS aluminium with CNC cut tapers, automated welding and heat treating resulting in the highest quality and most consistent dinghy spars available. Seldén also produces about 400 carbon masts per year for boats including high performance dinghies and race yachts using state of the art Mandrel Filament Moulding Technology.
17/5/2021 08:45
Photo © Tim Olin
#RaceLocal