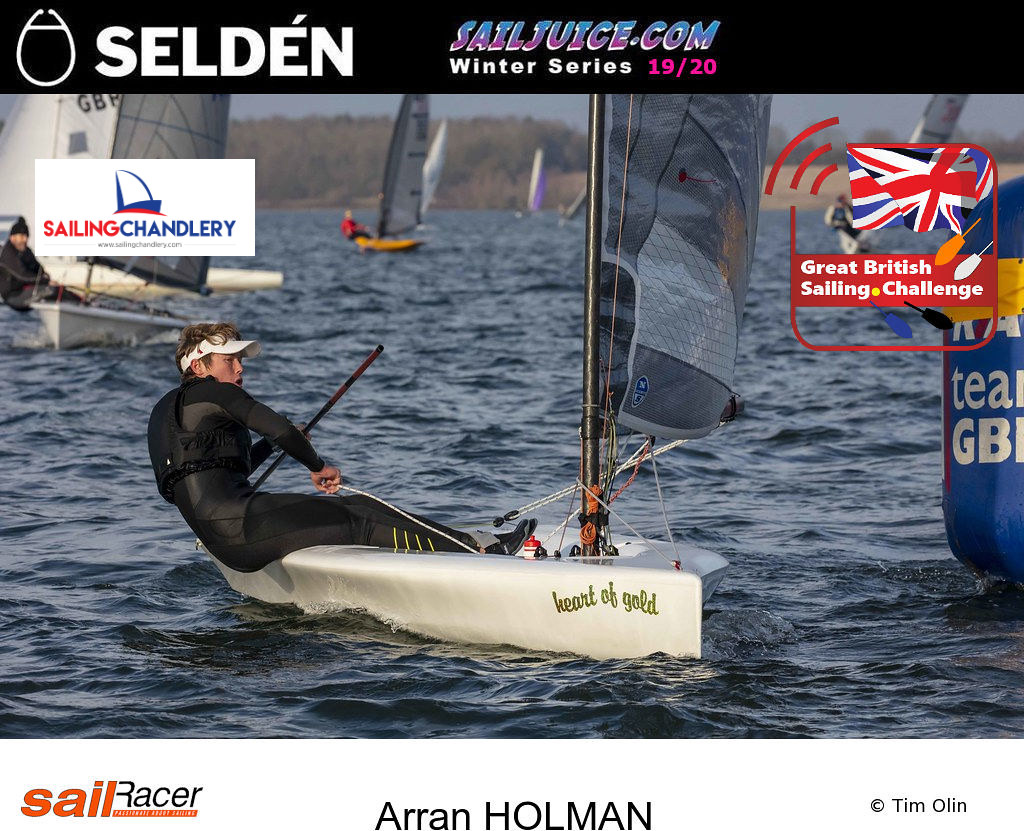 The 39th edition of the Grafham Grand Prix, sponsored by Sailing Chandlery, produced some great midwinter sailing conditions as the Seldén Sailjuice Winter Series reached the halfway point of the competition.
Unlike other events in the Series where everyone races on the same track, the Grand Prix divides the 200 entries into three fleets competing on three courses across Grafham Water near Huntingdon.
FAST: SWEET SUCCESS FOR LOCAL F18
Results
In the 42-boat Fast Handicap, it was Dave White and Jon Sweet from the home club who powered their Formula 18 catamaran to a fourth consecutive Grand Prix victory. In the Force 3 to 4 conditions for the first two heats, White and Sweet showed a clean pair of heels to the rest of the fleet. However as the wind dropped slightly for the final race of the afternoon, the multihulls slowed down on handicap and it was Michael Sims and Mark Lunn who came in first ahead of RS400 rivals Steve and Sarah Cockerill. Overall with two from three races to count, White and Sweet were the clear winners of the Fast Handicap. John Tuckwell's Nacra Carbon 20 was second and the F18 of Paul and Mike Allen was third, making it a clean sweep for the multihulls. Highest finishing monohull in fourth place was an RS800 sailed by Robert Gullan and Mari Shepherd followed by Mark Barnes and Josh Wilce just a point behind in their B14.
MEDIUM: HOLMAN'S D-ZERO BEATS OSPREY BY A POINT
In the 74-boat Medium Handicap, Arran Holman had an average start to the day, coming in 17th on handicap in race one. However the D-Zero sailor from Hollowell got his act together for the next race, finishing third on handicap. As the wind got lighter for the last race, Holman went even better on corrected time, finishing first and taking the overall win by just a point from the Osprey of Eden Hyland and Mark Hartley from Chase. Chris Haslam's RS600 finished on equal points with the Osprey but lost out on the tie-break and so finished third ahead of fellow RS600 competitor Richard Smith.
SLOW: SAILJUICE CHAMPIONS WIN IN THE 2000
In the 81-boat Slow Handicap, the largest of the three fleets, a familiar duo dominated the first two races. Simon Horsfield and Katie Burridge sailed their 2000 impeccably for two victories, and the fifth place in the final heat was a formality. Tim Hire raced his RS Aero 7 to a beautifully consistent scoreline of 3,2,3 to come second overall, finishing one place in front of the ever-improving GP14 of Pete Gray and Richard Pepperdine who scored 8,5,1 across the afternoon. Finishing on equal points but just missing out on the podium were Dylan McPherson and Jack Lewis who showed that a 420 can be competitive even in moderate conditions. Given a bit more breeze and the 420 duo would doubtless have been vying for the lead in this hard-fought division.
It's been a busy couple of days over the Christmas period, with the Yorkshire Dales Brass Monkey and the Grafham Grand Prix both fully booked in advance. Make sure you don't miss out on the fifth event of the Series, the legendary GJW Direct Bloody Mary at Queen Mary Sailing Club on Saturday 11 January, with more than 120 boats already signed up. Get your entry in ASAP at: www.sailjuiceseries.com
Run your Class Championship as part of one of the events
In case you hadn't already thought of it, why go to the hassle of organising your own class event when you can run it within one of the events in the Seldén Sailjuice Winter Series or the Great British Sailing Challenge during the summer months? Here's a few examples of classes that have already taken advantage of this season:
Hadron H2 - Inlands (Dash)
Blaze - Fire Cup (Datchet Flyer)
RS Aero - Winter Championships (Oxford)
OK - Winter Championships (Oxford)
Contact Simon Lovesey if interested in discussing using a SailJuice Winter Series event for a class championship and/or class winter series: simon.lovesey@sailracer.co.uk
THE EVENTS
The following events are in the Seldén SailJuice Winter Series 2019/20):
Fernhurst Books Draycote Dash, Draycote Water Sailing Club
Datchet Flyer, Datchet Water Sailing Club
Brass Monkey, Yorkshire Dales Sailing Club
Grafham Grand Prix, Grafham Water Sailing Club
Bloody Mary, Queen Mary Sailing Club
King George Gallop, King George Sailing Club
John Merricks Tiger Trophy, Rutland Sailing Club
Oxford Blue, Oxford Sailing Club
Prizegiving, RYA Dinghy Show, Alexandra Palace
1015am Saturday 29 February 2020
You can find out more about the Series here: www.SailJuiceSeries.com
Photo Credits: Tim Olin
Notes to editors:
Current and previous winners of the Seldén Sailjuice Winter Series
2018/19
Simon Horsfield & Katie Burridge (2000)
2017/18
Alistair Goodwin (Laser)
2016/17
Matt Mee & Emma Norris (RS200)
2015/16
Ian Dobson & Andy Tunnicliffe (GP14)
2014/15
Nick Craig & various crews (Merlin Rocket)
2013/14
Michael Sims (Solo)
2012/13
Tom Gillard & Simon Potts (Fireball)
2011/12
Peter Gray & Rachael Rhodes (Scorpion)
2010/11
Andy Peake (Musto Skiff)
2009/10
Olly Turner & Richard Whitworth (Merlin Rocket)
SailJuice.com is the 'how to sail and race faster' website, with hundreds of articles and exclusive interviews with National, World and Olympic Champions. Professional sailing journalist and editor of SailJuice.com, Andy Rice, came up with the concept of the SailJuice Winter Series (originally known as the SailJuice Global Warm-Up) as a way of increasing participation levels in dinghy racing during the off-season in the UK.
SailRacer manages event websites and processes online entry for major National, International, Youth and training events, providing online scoring, analysis and advanced sports presentation including GPS tracking and live video.
Seldén Mast Ltd is the world leader in dinghy spars. More races are won by Seldén Spars than any other brand. Dinghy spars are made using our unique XPS aluminium with CNC cut tapers, automated welding and heat treating resulting in the highest quality and most consistent dinghy spars available. Seldén produces about 400 carbon masts per year for boats including high performance dinghies and race yachts using state of the art Mandrel Filament Moulding Technology.
30/12/2019 12:10