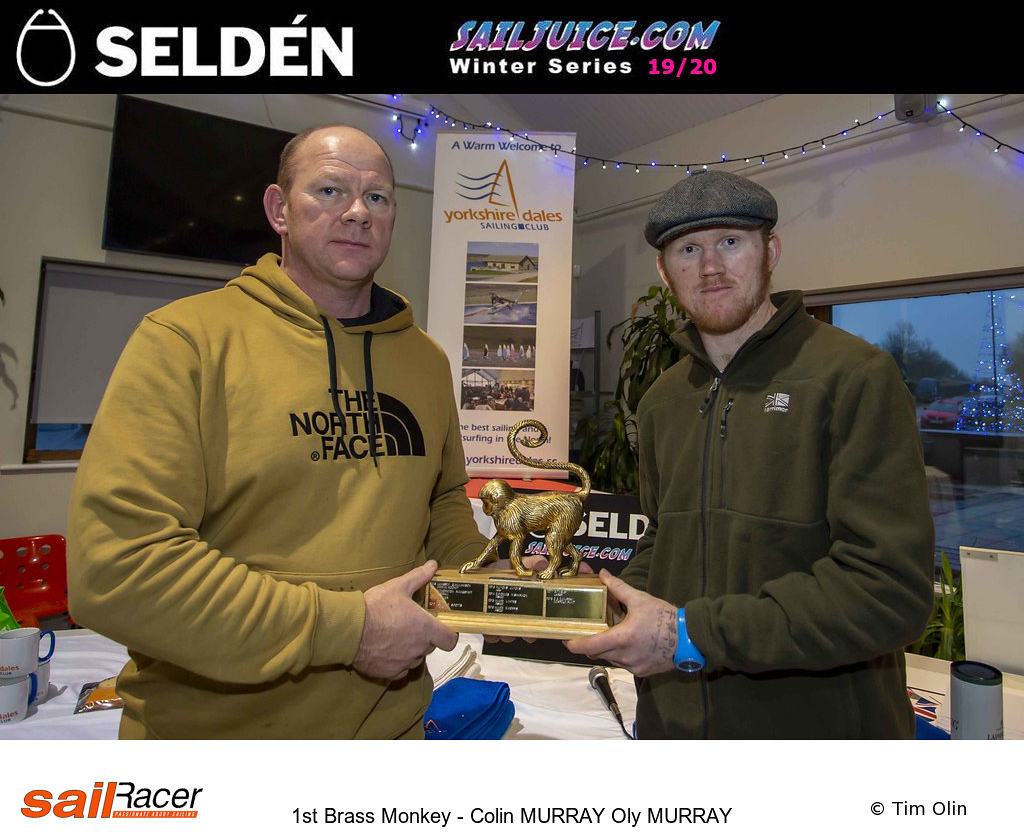 Colin and Oly Murray sail their Norfolk Punt to another victory in a light airs Yorkshire Dales Brass Monkey while this Sunday's Grafham Grand Prix has already hit its 200-entry limit.....
Colin and Oli Murray successfully defended their grip on the Yorkshire Dales Brass Monkey after sailing their Norfolk Punt to victory in the third event of the Seldén Sailjuice Winter Series.
It was a sold-out, hundred-boat entry for the Brass Monkey with lots of quality in the fleet, but the light airs and drizzly overcast conditions played to the strengths of the Murrays' Norfolk Punt. Principal race officer Phil Whitehead made the best of the difficult southerly breeze and set a long, 1.7 mile course that made the best of Grimwith Reservoir, with lots of offwind sailing legs. Unfortunately the fickle breeze meant only one race could take place.
Results
On Great Lakes corrected time, the team from Invergordon Boating Club won by 61 seconds ahead of Wimbleball's Simon Hawkes who had travelled all the way from the west country to compete in his K1 singlehanded keelboat, with Arran Holman's D-Zero coming in third place. Hayling Island's Jack Hopkins raced his Solo to fourth place, just ahead of Burghfield's Nick Craig who yet again proves his multi-class versatility by sailing his Hadron H2 to fifth overall. There were nine different classes in the top 10 overall, with the D-Zeros occupying 3rd and 10th spots. The Norfolk Punt aside, the only other trapeze boat to make the top 10 was Josh Moran's Musto Skiff from Ullswater.
After three of the eight events of this year's Seldén Sailjuice Winter Series, Laser sailor Olton Mere's George Sunderland is not only top Youth but top dog in the overall rankings. Moving up to second overall are the defending champions from last season, Simon Horsfield and Katie Burridge's 2000 representing the Army Sailing Association. Burton on Trent's Andrew Spencer, sailing a D-Zero, is in third overall.
The next event takes place tomorrow (Sunday, 29 December), with the 200-entry limit for the Grafham Grand Prix already reached. The RS Aero 5 has the most entries with 17 boats, followed by the D-Zero with 12 on the start line.
If you missed out on the entry for these last two events, make sure you don't miss out on the fifth event of the Series, the legendary GJW Direct Bloody Mary at Queen Mary Sailing Club on Saturday 11 January, with 120 boats already signed up. Get your entry in ASAP at: www.sailjuiceseries.com
Run your Class Championship as part of one of the events
In case you hadn't already thought of it, why go to the hassle of organising your own class event when you can run it within one of the events in the Seldén Sailjuice Winter Series or the Great British Sailing Challenge during the summer months? Here's a few examples of classes that have already taken advantage of this season:
Hadron H2 - Inlands (Dash)
Blaze - Fire Cup (Datchet Flyer)
RS Aero - Winter Championships (Oxford)
OK - Winter Championships (Oxford)
Contact Simon Lovesey if interested in discussing using a SailJuice Winter Series event for a class championship and/or class winter series: simon.lovesey@sailracer.co.uk
THE EVENTS
The following events are in the Seldén SailJuice Winter Series 2019/20):
Fernhurst Books Draycote Dash, Draycote Water Sailing Club
Datchet Flyer, Datchet Water Sailing Club
Brass Monkey, Yorkshire Dales Sailing Club
Grafham Grand Prix, Grafham Water Sailing Club
Bloody Mary, Queen Mary Sailing Club
King George Gallop, King George Sailing Club
John Merricks Tiger Trophy, Rutland Sailing Club
Oxford Blue, Oxford Sailing Club
Prizegiving, RYA Dinghy Show, Alexandra Palace
1015am Saturday 29 February 2020
You can find out more about the Series here: www.SailJuiceSeries.com
Photo Credits: Tim Olin
Notes to editors:
Current and previous winners of the Seldén Sailjuice Winter Series
2018/19
Simon Horsfield & Katie Burridge (2000)
2017/18
Alistair Goodwin (Laser)
2016/17
Matt Mee & Emma Norris (RS200)
2015/16
Ian Dobson & Andy Tunnicliffe (GP14)
2014/15
Nick Craig & various crews (Merlin Rocket)
2013/14
Michael Sims (Solo)
2012/13
Tom Gillard & Simon Potts (Fireball)
2011/12
Peter Gray & Rachael Rhodes (Scorpion)
2010/11
Andy Peake (Musto Skiff)
2009/10
Olly Turner & Richard Whitworth (Merlin Rocket)
SailJuice.com is the 'how to sail and race faster' website, with hundreds of articles and exclusive interviews with National, World and Olympic Champions. Professional sailing journalist and editor of SailJuice.com, Andy Rice, came up with the concept of the SailJuice Winter Series (originally known as the SailJuice Global Warm-Up) as a way of increasing participation levels in dinghy racing during the off-season in the UK.
SailRacer manages event websites and processes online entry for major National, International, Youth and training events, providing online scoring, analysis and advanced sports presentation including GPS tracking and live video.
Seldén Mast Ltd is the world leader in dinghy spars. More races are won by Seldén Spars than any other brand. Dinghy spars are made using our unique XPS aluminium with CNC cut tapers, automated welding and heat treating resulting in the highest quality and most consistent dinghy spars available. Seldén produces about 400 carbon masts per year for boats including high performance dinghies and race yachts using state of the art Mandrel Filament Moulding Technology.
28/12/2019 11:49