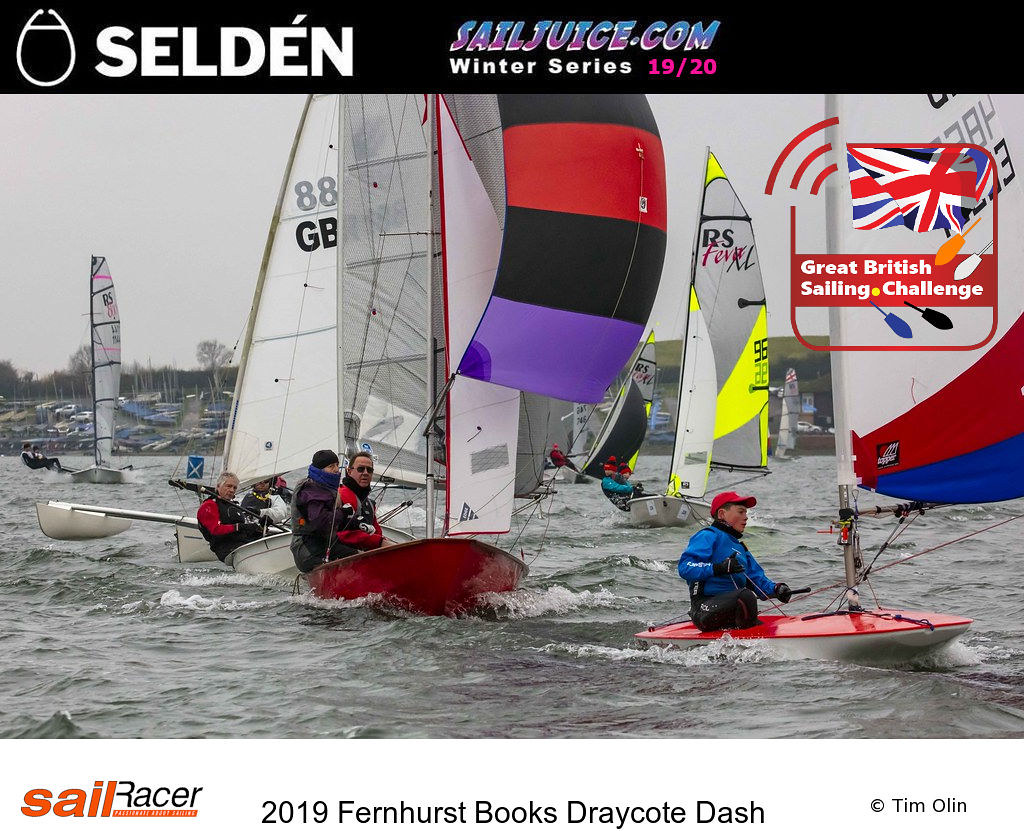 Colin and Oly Murray beat the 115-boat fleet in their Norfolk Punt at the Fernhurst Books Draycote Dash.....
Colin and Oly Murray sailed their Norfolk Punt to victory at the Fernhurst Books Draycote Dash, the first of eight events in this season's Seldén SailJuice Winter Series.
The conditions were predominantly light and overcast, with the Force 2 breeze occasionally gusting to Force 3 on Draycote Water. Starting under the black flag with three separate starts for Fast, Medium and Slow, the trapezoid course was always busy, with traffic avoidance and clear air one of the keys to success.
With the tallest rig in the fleet, the father and son duo in the Norfolk Punt made the most of the conditions where they were running at full power much of the time while most teams were still crouching. The Murrays finished 5th on corrected time in race one but then scored a hat trick of bullets in the next three races on Saturday.
Sunday was meant to bring the non-discardable Pursuit Race, although fog and lack of breeze meant that the results from Saturday's four races would determine the final positions in the Draycote Dash. So the Murrays were the winners, followed by some class acts who filled the top 10 places.
Steve and Sarah Cockerill raced their RS400 to second overall, 6 points behind the winners and 4 points ahead of the third-placed team in their World Championship winning GP14, Ian Dobson and Andy Tunnicliffe. There were six top-class GP14s present at Draycote, with Sam Watson/ Andy Punter finishing on equal points with Pete Gray and Geoff Edwards in 5th and 6th place respectively.
For fairly light conditions, Tom Morris and Guy Fillmore proved that an RS800 can be competitive even when they're not twin-trapezing, the Hayling Island crew coming fourth overall. Another high-performing boat from the Fast Handicap was the leading Fireball sailed by Martyn Lewis crewed by his son Daniel in 7th overall.
Results
In total there were five former winners of the Seldén SailJuice Winter Series in the top 10 - the aforementioned Dobson and Gray, along with the defending champions, Simon and Katie Horsfield, who raced their 2000 to 8th overall, a place in front of Nick Craig (crewed by Emma Clarke) in a GP14, in turn one place ahead of 10th placed the Scorpion of Tom Gillard and Rachael Rhodes, both of whom have won the Series on separate occasions.
Aside from the old faces, there were lots of new entrants to the Series for the first time, and a significant growth in family and youth participation.
This event also served as the Inland Championships for the Hadron H2 class, with Richard Leftley finishing first in class, and 21st overall. There are a number of classes using the Series events for class regattas, including:
Hadron H2 - Inlands (Dash)
Blaze - Fire Cup (Datchet Flyer)
RS Aero - Winter Championships (Oxford)
OK - Winter Championships (Oxford)
Contact Simon Lovesey if interested in discussing using a SailJuice Winter Series event for a class championship and/or class winter series: simon.lovesey@sailracer.co.uk
The next event in the Series is fast approaching, with just a fortnight until the Datchet Flyer on on the weekend of 7 & 8 December. Enter here:
www.sailjuiceseries.com
THE EVENTS
The following events are in the Seldén SailJuice Winter Series 2019/20:
Fernhurst Books Draycote Dash, Draycote Water Sailing Club
Datchet Flyer, Datchet Water Sailing Club
Brass Monkey, Yorkshire Dales Sailing Club
Grafham Grand Prix, Grafham Water Sailing Club
Bloody Mary, Queen Mary Sailing Club
King George Gallop, King George Sailing Club
John Merricks Tiger Trophy, Rutland Sailing Club
Oxford Blue, Oxford Sailing Club
You can find out more about the Series here: www.SailJuiceSeries.com
Website: www.sailjuice.com
Photo Credits: Tim Olin
Notes to editors:
Current and previous winners of the Seldén Sailjuice Winter Series
2018/19
Simon Horsfield & Katie Burridge (2000)
2017/18
Alistair Goodwin (Laser)
2016/17
Matt Mee & Emma Norris (RS200)
2015/16
Ian Dobson & Andy Tunnicliffe (GP14)
2014/15
Nick Craig & various crews (Merlin Rocket)
2013/14
Michael Sims (Solo)
2012/13
Tom Gillard & Simon Potts (Fireball)
2011/12
Peter Gray & Rachael Rhodes (Scorpion)
2010/11
Andy Peake (Musto Skiff)
2009/10
Olly Turner & Richard Whitworth (Merlin Rocket)
SailJuice.com is the 'how to sail and race faster' website, with hundreds of articles and exclusive interviews with National, World and Olympic Champions. Professional sailing journalist and editor of SailJuice.com, Andy Rice, came up with the concept of the SailJuice Winter Series (originally known as the SailJuice Global Warm-Up) as a way of increasing participation levels in dinghy racing during the off-season in the UK.
SailRacer manages event websites and processes online entry for major National, International, Youth and training events, providing online scoring, analysis and advanced sports presentation including GPS tracking and live video.
Seldén Mast Ltd is the world leader in dinghy spars. More races are won by Seldén Spars than any other brand. Dinghy spars are made using our unique XPS aluminium with CNC cut tapers, automated welding and heat treating resulting in the highest quality and most consistent dinghy spars available. Seldén produces about 400 carbon masts per year for boats including high performance dinghies and race yachts using state of the art Mandrel Filament Moulding Technology.
25/11/2019 17:46