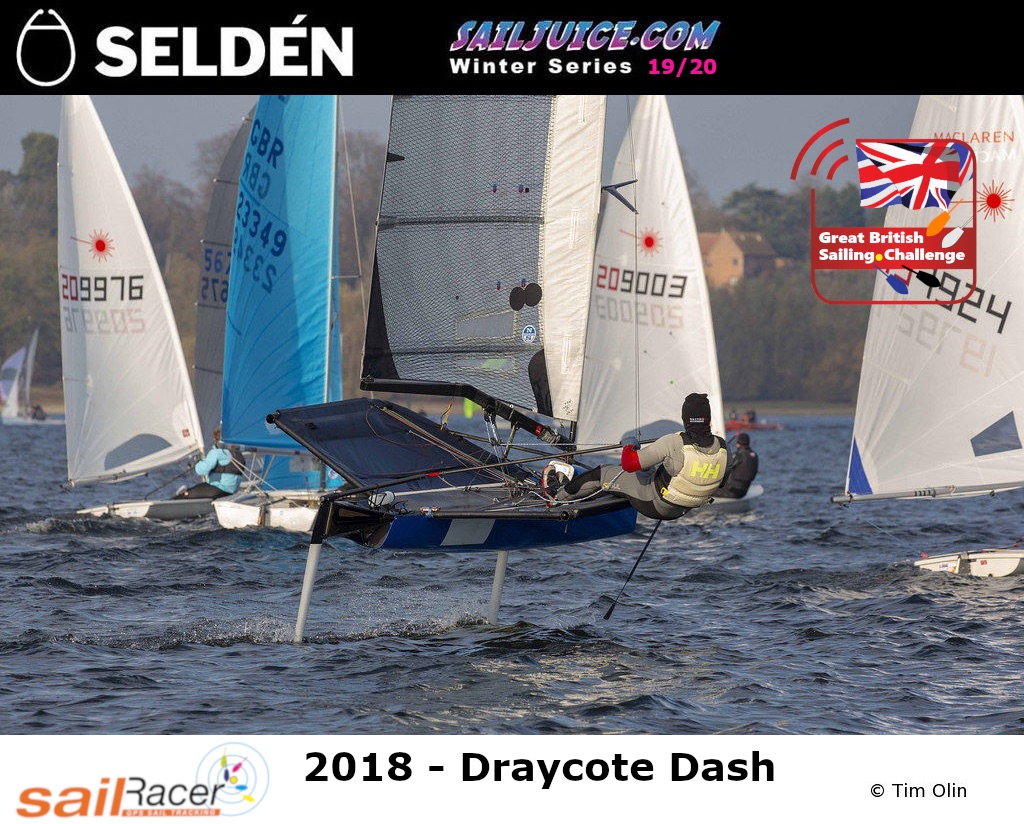 More than 80 already signed up for the Fernhurst Books Draycote Dash, but be quick if you want to get in on the action, with entry closing on Sunday (17)
Enter Here Entry to next weekend's Fernhurst Books Draycote Dash closes end of play Sunday 17 November, so be quick if you want to join the 70-plus boats already signed up to the first event of this season's Seldén SailJuice Winter Series. The event at Draycote Water takes place on 23 & 24 November. You can book your seat here: www.sailjuiceseries.com
Winners of last season's Seldén SailJuice Winter Series, Simon and Katie Horsfield, are back in their 2000 to see if they can become the first sailors ever to defend the title. As we've come to expect at these well-attended contests, there are some class acts looking to topple the Horsfields. Watch out for a thrilling duel in GP14s between the World Champions, Ian Dobson and Andy Tunnicliffe, up against the multiple champion and Endeavour Trophy legend Nick Craig sailing with Emma Clarke. Dobson/Tunnicliffe have proven their worth in the SailJuice Winter Series before, winning in the GP14 four years ago, a year after Craig sailed his Merlin Rocket to series victory.
Dobson is also the recently crowned Fireball World Champion, whilst a past Fireball World Champion and former winner of the Draycote Dash, Tom Gillard, is sailing a Scorpion at Draycote with Rachael Rhodes. Rhodes won the SailJuice Winter Series crewing Pete Gray in a Scorpion back in 2011/12, while Gillard sailed his Fireball to SailJuice victory a year later.
Racing consists of up to four back-to-back handicap races on Saturday, starting at 11am. Sunday is the Pursuit Race. There is no briefing on the day, so make sure you watch the online briefing here, with all the relevant details for arrival, parking, rigging up, registration and so on: https://www.youtube.com/watch?v=zj_TAcbs4Hw&feature=youtu.be
The Seldén SailJuice Winter Series aims to appeal to as many classes as possible, with typically almost 100 different types of boat represented across the season, from fleets as diverse as the traditional Norfolk Punt and National 18 to emerging classes like the Hadron H2 singlehander.
In fact the Hadron H2 class is using the Draycote Dash as its Inland Championships, with a number of other fleets also running their class events within the Series:
Hadron H2 - Inlands (Dash)
Blaze - Fire Cup (Datchet Flyer)
RS Aero - Winter Championships (Oxford)
OK - Winter Championships (Oxford)
Contact Simon Lovesey if interested in discussing using a SailJuice Winter Series event for a class championship and/or class winter series: simon.lovesey@sailracer.co.uk
Aside from the bigger classes, there are plenty of examples of lesser seen boats competing at Draycote in a week's time, including B14, Challenger, Cherub and Comet Trio Mk2. Russ Clark, who has enjoyed enormous success crewing his wife Penny in the Fireball and 505 over the past couple of years, is set to compete at the helm of his OK singlehander. There are also quite a few youth and junior entries, in classes such as the Topper and RS Feva XL.
Over the years the Great Lakes Handicap Group has set its own variation of the standard RYA PY numbers to produce very close competition for pretty much every kind of boat that takes part. The more a class takes part in the Winter Series, the more accurately the Great Lakes handicap can be established for that type of boat. However, nothing is ever set in stone, and the Great Lakes is one of the most dynamic handicapping systems in the world.
Seldén Mast Ltd is back as title sponsor for the second year. Steve Norbury, Seldén's managing director, commented: "We produce masts for the vast majority of dinghy classes in the UK, so it's great to be able to support this series which reaches out to all forms of small-boat racing across the country."
The Seldén SailJuice Winter Series offers prizes for a number of special categories, including Youth, Women and Families. With organised youth racing in the UK focused on singlehanded or youth sailing with youth in doublehanders, the Winter Series offers a place for parents and their children to compete side by side. Good examples of this are the regular competitors like RS800 father and daughter duo, Ralph and Sophie Singleton, and father and son team in the Norfolk Punt, Colin and Oly Murray, who are entered for Draycote.
Among the special category rankings and prizes are....
Sailing Chandlery top class
Speed Six Speed Challenge
Trident Top club
Best improver
Top Lady
Top Youths
All events in the Series are being GPS tracked by SailRacer and also serve as the early season rounds of the 2020 edition of the Great British Sailing Challenge (GBSC)
Many of the events are now booking out in advance, so to secure your spot for Draycote and the other seven events, sign up sooner than later at www.sailjuiceseries.com
THE EVENTS
The following events constitute the Seldén SailJuice Winter Series 2019/20):
Fernhurst Books Draycote Dash, Draycote Water Sailing Club
Datchet Flyer, Datchet Water Sailing Club
Brass Monkey, Yorkshire Dales Sailing Club
Grafham Grand Prix, Grafham Water Sailing Club
Bloody Mary, Queen Mary Sailing Club
King George Gallop, King George Sailing Club
John Merricks Tiger Trophy, Rutland Sailing Club
Oxford Blue, Oxford Sailing Club
You can find out more about the Series here: www.SailJuiceSeries.com
Photo Credits: Tim Olin
Notes to editors:
Current and previous winners of the Seldén Sailjuice Winter Series
2018/19
Simon Horsfield & Katie Burridge (2000)
2017/18
Alistair Goodwin (Laser)
2016/17
Matt Mee & Emma Norris (RS200)
2015/16
Ian Dobson & Andy Tunnicliffe (GP14)
2014/15
Nick Craig & various crews (Merlin Rocket)
2013/14
Michael Sims (Solo)
2012/13
Tom Gillard & Simon Potts (Fireball)
2011/12
Peter Gray & Rachael Rhodes (Scorpion)
2010/11
Andy Peake (Musto Skiff)
2009/10
Olly Turner & Richard Whitworth (Merlin Rocket)
SailJuice.com is the 'how to sail and race faster' website, with hundreds of articles and exclusive interviews with National, World and Olympic Champions. Professional sailing journalist and editor of SailJuice.com, Andy Rice, came up with the concept of the SailJuice Winter Series (originally known as the SailJuice Global Warm-Up) as a way of increasing participation levels in dinghy racing during the off-season in the UK.
SailRacer manages event websites and processes online entry for major National, International, Youth and training events, providing online scoring, analysis and advanced sports presentation including GPS tracking and live video.
Seldén Mast Ltd is the world leader in dinghy spars. More races are won by Seldén Spars than any other brand. Dinghy spars are made using our unique XPS aluminium with CNC cut tapers, automated welding and heat treating resulting in the highest quality and most consistent dinghy spars available. Seldén produces about 400 carbon masts per year for boats including high performance dinghies and race yachts using state of the art Mandrel Filament Moulding Technology.
16/11/2019 09:46