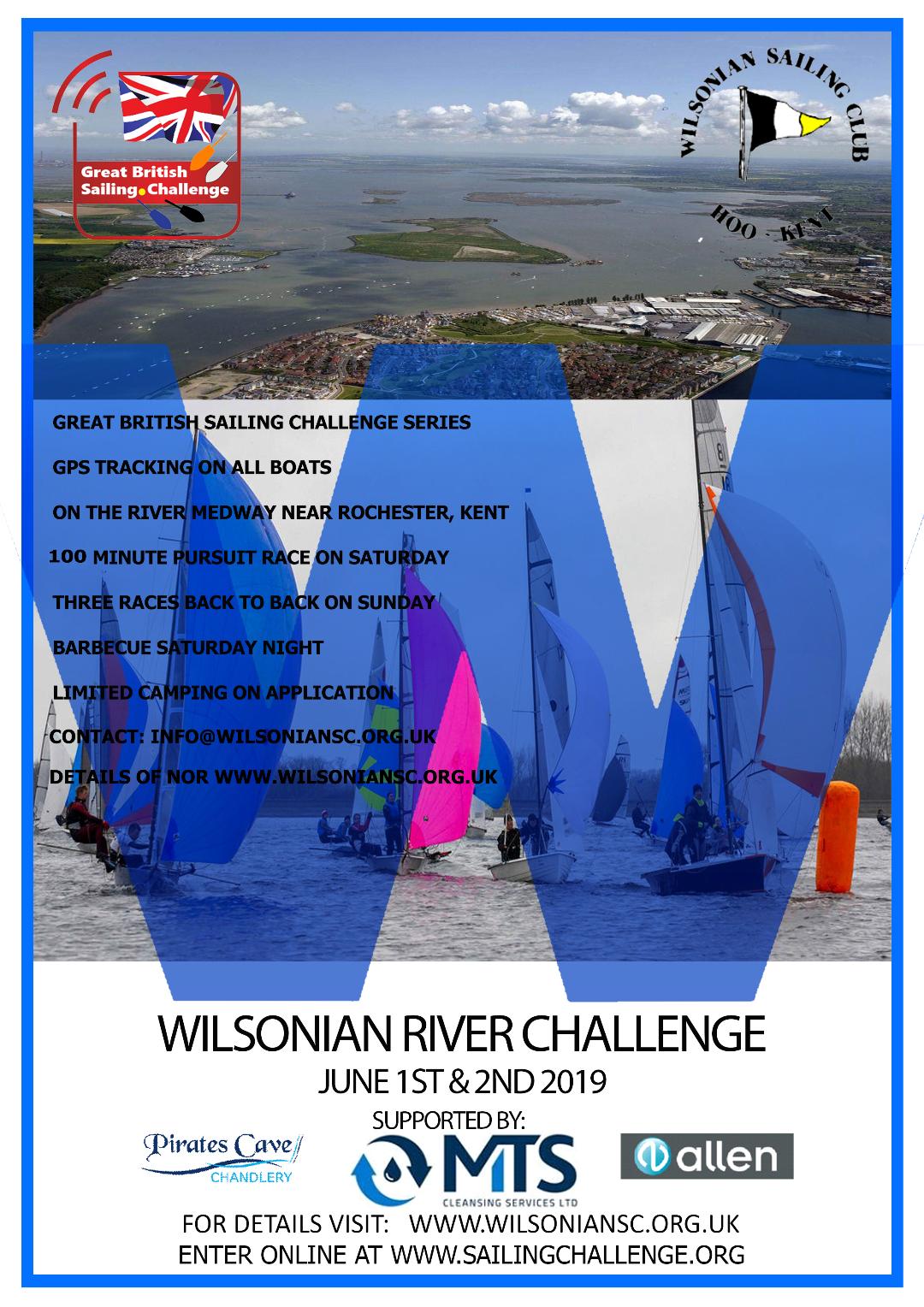 The next event in the Great British Sailing Challenge offers dinghy sailors of all types and sizes the chance to race on the Medway estuary.
Enter Now The Wilsonian River Challenge offers adventurous dinghy racers the chance to branch out and try something a bit different from the usual open meeting. Taking place on 1&2 June, it's the next event on the Great British Sailing Challenge calendar, and the format is designed to make the best use of the tidal conditions on the Medway River in this hidden away corner of Kent.
Richard Smith, reigning RS600 National Champion, is one of the key people to have put the new regatta together. He'll be racing an RS800 with his daughter Ellie. "Saturday is all about the long distance race, and I think visitors are going to love the navigational challenge of racing in the estuary. It will be a bit of beating, reaching, running, and then after the first hour it will turn into a more standard race to keep all the boats in one place and finish them close together." With a target time of 100 minutes, the long distance offers an opportunity for the faster boats to stretch their legs, while on the Sunday it will be three back-to-back short course handicap races that will work more in favour of the slower boats.
Ian Bullock has already made a name for himself running the successful Datchet Flyer event which takes place every December and he'll be the principal race officer for the Wilsonian River Challenge. He's looking forward to running some fair racing under the Great Lakes numbers that have proven to produce close handicap competition in the Selden SailJuice Winter Series.
Entry is open to all non-foiling monohull centreboard dinghies with a Great Lakes Handicap Number equal to or lower than the Topper 5.3 and Challenger Trimarans. So far there are entries already in for boats as diverse as 2000s, AltOs, Blazes, Musto Skiffs, National 18, Osprey, RS600, RS800, Solos, Streakers and Wayfarers.
For friends and family who aren't racing, there's plenty to do nearby including a visit to the historic Upnor Castle and the local area which is full of Britain's maritime heritage.
The club is putting on food and social events throughout the weekend. Hot and cold food will be available from the galley on arrival including:
Food available for Friday night Competitors and Visitors
Breakfast served from 8am to 10.30am on Saturday from 7.30am to 9.30am on Sunday
Rolls to take afloat on request
Pasties and snack food available after racing on both Saturday and Sunday
Bar open all day for Soft Non Alcoholic and Alcoholic Drinks
Saturday Afternoon/Evening: The BBQ will be available from 4pm with live music in the Evening
Camping: There will be a limited amount of camping space( maximum tent Size 2 x 3 metres) and campervan space which will need to be applied beforehand on a first come first serve basis.
There's plenty of accommodation nearby. The website www.visitmedway.org/getting- here/visitor-information- centre will give you all local B&Bs, Guest Houses, Premier Inn, Travelodge and other hotels. The nearest towns are Hoo St Werburgh and Strood.
Online entry is open at www.sailingchallenge.org . This is set to be one of the most exciting and out-of-the-ordinary events of the dinghy calendar in 2019, so get your entry in before it hits the 80-boat limit.
GBSC Calendar 2018/19
Fernhurst Books Draycote Dash, Draycote Water Sailing Club
17 & 18 November 2018
Datchet Flyer, Datchet Water Sailing Club
8 & 9 December 2018
Brass Monkey, Yorkshire Dales Sailing Club
27 December 2018
John Merricks Tiger Trophy, Rutland Sailing Club
2 & 3 February 2019
Oxford Blue, Oxford Sailing Club
16 February 2019
King George Gallop, King George Sailing Club
16 & 17 March 2019
Weston Grand Slam
19-21 April 2019
Wilsonian River Challenge, Wilsonian Sailing Club
1 & 2 June 2019
Bala Long Distance, Bala Sailing Club
22 & 23 June 2019
Mountbatten Centre, Plymouth
8 to 10 August 2019
Ullswater Ultimate, Ullswater Yacht Club
17 & 18 August 2019
Grand Finals, Rutland Water Sailing Club
28 & 29 September 2019
How do I get to the Grand Finals?
The Grand Finals of the GBSC are designed to celebrate the best of everything in small-boat racing in Great Britain. So there are many ways to qualify....
Finish in the top 10 of the travellers' series (based on your best three results)
Top qualifiers in a number of boat categories:
Fast Asymmetric
Fast Non-Asymmetric
Slow Asymmetric
Slow Non-Asymmetric
Multihull
Sportsboat
Best Improver
Most attended
Any boat valued at less than £1000
Top qualifiers in a number of age and other categories, for example:
Youth (Under 19)
Master (Over 60)
Female
Two Generations (two people sailing together, minimum age gap of 18 years - could be parent/child but not necessarily)
There will also be a number of 'wild card' invites available based on various criteria.
Hang on, but what even IS the Great British Sailing Challenge?
It's a series of handicap racing events that take place throughout the year, and it's open to pretty much any sail-powered craft. The Challenge involve events throughout the whole year, running large regattas at a variety of inland and open water venues. Competing sailors will earn ranking points from each event they compete in, with the top 100 sailors invited to a winner-takes-all-final at Rutland Water in September, a celebration to bring together the best British sailors of the year.
Who came up with the idea?
The idea comes from the organisers of the Seldén SailJuice Winter Series which has been one of the big success stories of the past decade. Organised by Andy Rice of SailJuice.com (sailing journalist and marketer) and Simon Lovesey of SailRacer (event organiser and GPS tracking expert) has completed its 10th season.
20/5/2019 07:02