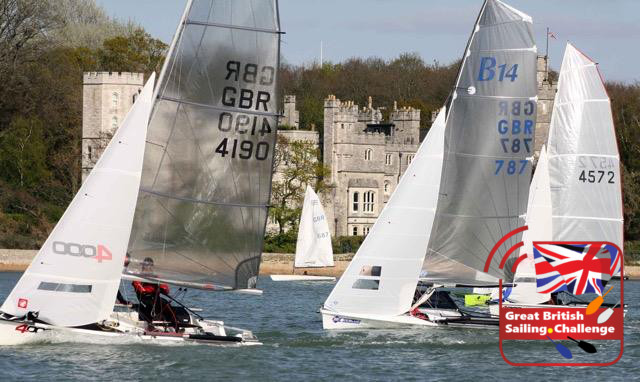 The Great British Sailing Challenge moves to the south coast of England for the Weston Grand Slam where boats as diverse as Toppers and foiling Nacra 20 Carbons are set to race each other...
The Weston Grand Slam is ready to welcome a whole range of different boats to come and enjoy some close and friendly racing on Southampton Water over the Easter Bank Holiday weekend.
Enter Now >>>>>
As part of the Great British Sailing Challenge, there are some small changes to the setup of what has already proven a very popular and successful event over the years. As a preview to the average lap handicap racing on the Saturday and Sunday, on Good Friday there is a chance to race against the clock in the Rooster Time Trials. Using GPS trackers provided by SailRacer, the race course will be open between 12.00 and 15.00, where you will be timed over as many laps as you wish to race, with the winner decided on the best average lap, adjusted to dynamic handicap according to the wind conditions experienced. Rooster have provided some great prizes for the top 3 and winners across GBSC divisions, with class prizes for those with three or more boats competing.
For the Saturday and Sunday, there will be three back-to-back races per day with the racing run under the tried-and-tested Great Lakes handicap numbers. Competition at the front will be tough, with the likes of catamaran superstar Grant Piggott likely to be leading the charge. Other previous category winners at the Grand Slam in the dinghy classes are Steve and Sarah Cockerill who won in a 4000 a couple of years back but are likely to show up in their RS400, Andrew Rawson in the Laser and a host of Contender stars including the local legend Keith Paul. As well as the category winners, there will be an overall winner for the first time.
With Rooster Sailing (https://www.roostersailing.com) providing the prizes for Good Friday, the local watersports specialist retailer Andark (https://andark.co.uk/) are sponsoring the prizes on the Saturday and Sunday.

Those who have been taking part in the Grand Slam over the past quarter of a century know that Weston offers a beautiful, relaxing setting for the Easter weekend. Camping will be free to competitors, who can camp and park their cars and boats in the large field adjacent to the club, overlooking Southampton Water. The camping field will be open from Friday morning until Sunday evening. The bar will be open during the day and on Friday and Saturday evenings. The galley will be open for breakfast, lunches and snacks. And everyone is welcome to attend the evening meal on Saturday night. Tickets can be booked and paid for (cash only) at registration.
For a great weekend's sailing over Easter, come and sail at the Weston Grand Slam. Online entry is open at www.sailingchallenge.org.
GBSC Calendar 2018/19
Fernhurst Books Draycote Dash, Draycote Water Sailing Club
17 & 18 November 2018
Datchet Flyer, Datchet Water Sailing Club
8 & 9 December 2018
Brass Monkey, Yorkshire Dales Sailing Club
27 December 2018
John Merricks Tiger Trophy, Rutland Sailing Club
2 & 3 February 2019
Oxford Blue, Oxford Sailing Club
16 February 2019
King George Gallop, King George Sailing Club
16 & 17 March 2019
Weston Grand Slam
19-21 April 2019
Derwent Dambuster, Derwent Reservoir Sailing Club
11 & 12 May 2019
Wilsonian River Challenge, Wilsonian Sailing Club
1 & 2 June 2019
Bala Long Distance, Bala Sailing Club
22 & 23 June 2019
Mountbatten Centre, Plymouth
8 to 10 August 2019
Ullswater Ultimate, Ullswater Yacht Club
17 & 18 August 2019
Grand Finals, Rutland Water Sailing Club
28 & 29 September 2019
How do I get to the Grand Finals?
The Grand Finals of the GBSC are designed to celebrate the best of everything in small-boat racing in Great Britain. So there are many ways to qualify....
Finish in the top 10 of the travellers' series (based on your best three results)
Top qualifiers in a number of boat categories:
Any boat valued at less than £1000
Top qualifiers in a number of age and other categories, for example:
Two Generations (two people sailing together, minimum age gap of 18 years - could be parent/child but not necessarily)
There will also be a number of 'wild card' invites available based on various criteria.
Hang on, but what even IS the Great British Sailing Challenge?
It's a series of handicap racing events that take place throughout the year, and it's open to pretty much any sail-powered craft. The Challenge involve events throughout the whole year, running large regattas at a variety of inland and open water venues. Competing sailors will earn ranking points from each event they compete in, with the top 100 sailors invited to a winner-takes-all-final at Rutland Water in September, a celebration to bring together the best British sailors of the year.
Who came up with the idea?
The idea comes from the organisers of the Seldén SailJuice Winter Series which has been one of the big success stories of the past decade. Organised by Andy Rice of SailJuice.com (sailing journalist and marketer) and Simon Lovesey of SailRacer (event organiser and GPS tracking expert) has completed its 10th season.
www.sailingchallenge.org
16/4/2019 07:24