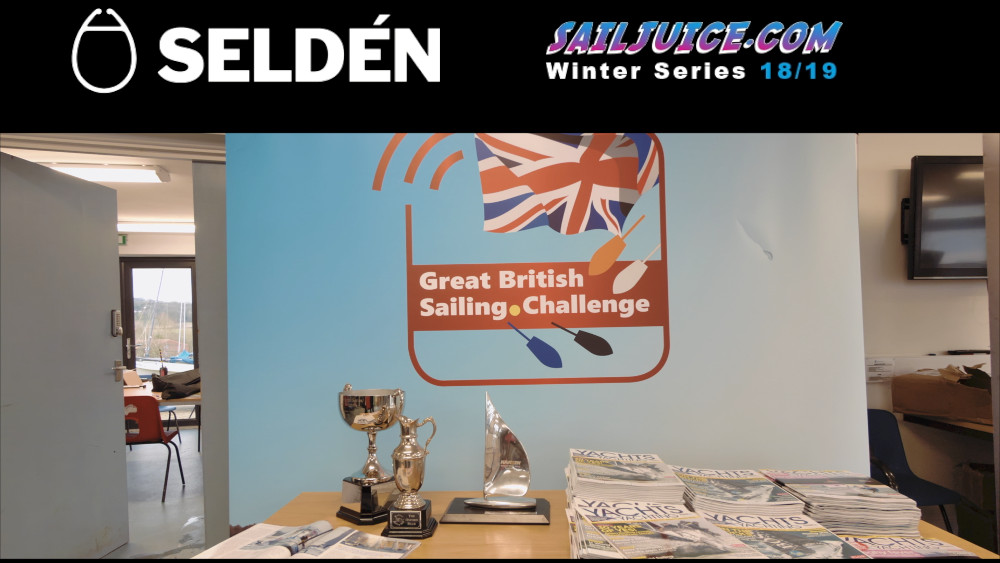 Simon Horsfield and Katie Burridge, who have won the 10th Selden SailJuice Winter Series, are headed to the RYA Dinghy Show to receive a brand new trophy produced by Selden. Prize Giving 10.30, Sat on Class Associations Stage
Simon Horsfield and Katie Burridge put together a stellar set of scores in their 2000 dinghy to win the 10th edition of the Selden SailJuice Winter Series. They join an illustrious group of top-class sailors - a mix of national and world champions - who have won in a variety of boats. Nine different types of boat have won over the past decade, the only repeat class being the Merlin Rocket.
Horsfield and Burridge will be the stars of the show at the Selden SailJuice Winter Series prizegiving which will be held at the RYA Dinghy Show, Saturday 2nd March, 10.30. Come along and celebrate all the winners, relive all the action this winter and learn about plans for next winter, as well as the new Great British Sailing Challenge.
The 10th Anniversary of the SailJuice Winter Series saw growing numbers, with nearly 600 entries, 1,000 sailors from 92 different classes, representing over 300 clubs. This year has seen number of qualifiers up 47% to 50, and more people doing all 7 events. This year there were more media activities such as live videos and interviews, with more events being tracked by SailRacer, all meaning more people are following the Series online, with unique site visitors up 17% to 8,336.
Simon Horsfield, who with Katie Burridge is the reigning 2000 National Champion, explained his reasons for joining in this year's Series. "We'd seen all the positives around the Selden SailJuice Winter Series and we just wanted to be part of that. Katie and I thought it be a great way to get some racing in against some really competitive sailors and also keep our skills up for the coming season in the 2000. We were really delighted with how it panned out in the end. We really gained confidence after each event. I'm enjoying it more and more and we ended up being really captivated by the Series. It's been fantastic."
Burridge said the publicity around the Series has galvanised more sailing in the winter. "The buzz that has been created around social media with the Facebook posts and how everyone's engaged with that - it just encourages loads of sailors who wouldn't necessarily come out over the winter to race against each other. We all know how great it is for more and more boats to be on the water and I think the SailJuice Series has really helped increase the numbers."
Horsfield said the style of racing keeps you on your toes. "You can't let up for a minute because you're always racing against the clock, so you can never relax. The competition across the classes is so strong, and you have to gauge the boats around you, whether they're faster or slower than you, and set your tactics accordingly."
The top 10 sees nine different classes represented, including some rare ones like the National 18 which came second, sailed by Peter Gray, Richard Pepperdine and Simon Forbes, and the retro-futuristic Norfolk Punt which father and son team of Colin and Oly Murray raced to 7th overall. They were also the top family team in a growing trend towards parents and children racing together in the Series.
There are many other category winners in the many Series within the Series, so please come along and support them at the prizegiving.
Selden SailJuice Winter Series Prize Giving
RYA Dinghy Show (Sat 3rd March - 10.30)
The official prizegiving takes place this Saturday 2nd March at the RYA Dinghy Show. Series organisers Andy Rice and Simon Lovesey will present the highlights from this Winter, with a vast array of prizes to be awarded across the numerous categories. Andy and Simon will be on the stand from 1015am on Saturday soon after the doors open, ready for the prizegiving which will start promptly at 1030am. It takes place at the Class Association Stage, which you can find by heading in the direction of the big organ. Book your RYA Dinghy Show tickets now.
https://www.rya.org.uk/dinghy- show/Pages/tickets.aspx
For more info on the Selden SailJuice Winter Series, go to www.sailjuiceseries.com
Great British Sailing Challenge - Some of the events in the Selden SailJuice Winter Series were also part of the new Great British Sailing Challenge. The next event is the King George Gallop (16-17 March). Online entry is open, so book your spot now at: www.sailingchallenge.org
TOP 10 OVERALL IN THE 2018/19 SELDEN SAILJUICE WINTER SERIES
| | | | |
| --- | --- | --- | --- |
| Pos | Name | Class | Points |
| 1 | Simon Horsfield & Katie Burridge | 2000 | 23.12 |
| 2 | Peter Gray, Richard Pepperdine & Simon Forbes | National 18 | 34.92 |
| 3 | Alistair Goodwin | Laser | 40.98 |
| 4 | Megan Ferguson & Bettine Harris | 420 | 58.99 |
| 5 | Tom Gillard | Solo | 61.63 |
| 6 | Ben Schooling | Musto Skiff | 74.43 |
| 7 | Colin & Oly Murray | Norfolk Punt | 82.34 |
| 8 | Ralph & Sophie Singleton | RS800 | 106.11 |
| 9 | Ben Flower | Laser | 106.47 |
| 10 | Ben & Simon Hawkes | Osprey | 110.59 |
THE EVENTS
The following events constituted the Seldén SailJuice Winter Series 2018/19:
Fernhurst Books Draycote Dash, Draycote Water Sailing Club
17 & 18 November 2018
Datchet Flyer, Datchet Water Sailing Club
8 & 9 December 2018
Brass Monkey, Yorkshire Dales Sailing Club
27 December 2018
Grafham Grand Prix, Grafham Water Sailing Club
30 December 2018
Bloody Mary, Queen Mary Sailing Club
12 January 2019
John Merricks Tiger Trophy, Rutland Sailing Club
2 & 3 February 2019
Oxford Blue, Oxford Sailing Club
16 February 2019
You can find out more about the Series here: www.SailJuiceSeries.com
Photo Credits: Tim Olin
Notes to editors:
Current and previous winners of the Seldén Sailjuice Winter Series
2018/19 Simon Horsfield/ Katie Burridge (2000)
2017/18 Alistair Goodwin (Laser)
2016/17 Matt Mee & Emma Norris (RS200)
2015/16 Ian Dobson & Andy Tunnicliffe (GP14)
2014/15 Nick Craig & various crews (Merlin Rocket)
2013/14 Michael Sims (Solo)
2012/13 Tom Gillard & Simon Potts (Fireball)
2011/12 Peter Gray & Rachael Rhodes (Scorpion)
2010/11 Andy Peake (Musto Skiff)
2009/10 Olly Turner & Richard Whitworth (Merlin Rocket)
SailJuice.com is the 'how to sail and race faster' website, with hundreds of articles and exclusive interviews with National, World and Olympic Champions. Professional sailing journalist and editor of SailJuice.com, Andy Rice, came up with the concept of the SailJuice Winter Series (originally known as the SailJuice Global Warm-Up) as a way of increasing participation levels in dinghy racing during the off-season in the UK.
SailRacer manages event websites and processes online entry for major National, International, Youth and training events, providing online scoring, analysis and advanced sports presentation including GPS tracking and live video.
Seldén Mast Ltd is the world leader in dinghy spars. More races are won by Seldén Spars than any other brand. Dinghy spars are made using 6082T6 aluminium with CNC cut tapers, automated welding and heat treating resulting in the highest quality and most consistent dinghy spars available. Seldén produces about 400 carbon masts per year for boats including high performance dinghies and race yachts.
1/3/2019 12:44