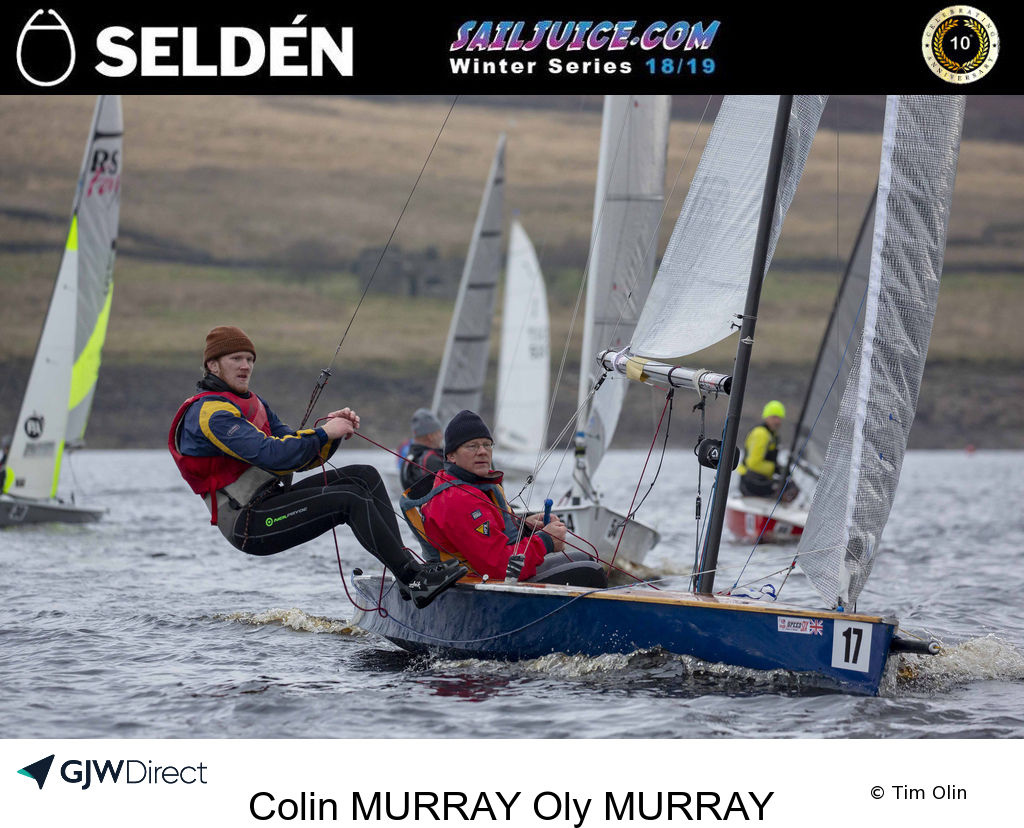 The Murrays' Norfolk Punt wins a one-race Brass Monkey ahead of Nick Craig in a D-Zero, while entries for Grafham close at full capacity.
Colin and Oly Murray powered their Norfolk Punt to victory in a light airs single race Yorkshire Dales Brass Monkey on 27 December. Thick fog had forced the postponement of racing for two hours, but eventually principal race officer Phil Whitehead managed to find a weather window for a 90-minute race around Grimwith Reservoir for the capacity entry of 73 boats on the start line.
Results
The Murrays have proven the power of their Punt at previous events in this season's Selden SailJuice Winter Series, and the light to medium conditions proved ideal for their souped-up high-performance classic boat.
GPS Tracking
Nick Craig has competed in various boats over the years at the Selden SailJuice Winter Series, including an overall series victory in a Merlin Rocket. This time the multiple national and world champion proved as potent as ever in a D-Zero, finishing second behind the Murrays. The defending champion from last year's Brass Monkey, Graham Tinsley, finished third in his Laser, ahead of former world champion Neil Marsden racing a GP14 with Ellie Dev.
Photo Gallery
While it was disappointing not to get in more racing on spectacular Grimwith Reservoir, the lunch and hospitality at Yorkshire Dales Sailing Club never disappoints, and made up for the lack of a follow-on race.
SpeedSix Speed Challenge
| Sailor | SailNo. | Speed |
| --- | --- | --- |
| Ian CRAVEN | 49er 200 | 11.81 |
| Matty LYONS | 49er 343 | 10.64 |
| Ralph SINGLETON | RS800 1166 | 9.51 |
After three events in the Series, Tom Gillard's Solo holds the overall lead.
Meanwhile, this Sunday's Grafham Grand Prix is fast approaching, with more than 200 boats set to compete, including the Murrays in their Punt and Craig, who's back in the Merlin Rocket with Emma Clarke. Olympic representative and many-time Endeavour winner Ben Saxton will be racing a RS200 with Izzy Hamilton, and another Olympic representative from 1992 will be rolling back the years as Paul Brotherton gets ready to race a 470 with crew Ryan Orr.
Entries for Grafham have now closed but you can enter the remaining events in the Selden SailJuice Winter Series, go here. www.sailjuiceseries.com
THE EVENTS
The following events constitute the Seldén SailJuice Winter Series 2018/19:
Fernhurst Books Draycote Dash, Draycote Water Sailing Club 17 & 18 November 2018
Datchet Flyer, Datchet Water Sailing Club 8 & 9 December 2018
Brass Monkey, Yorkshire Dales Sailing Club 27 December 2018
Grafham Grand Prix, Grafham Water Sailing Club 30 December 2018
Bloody Mary, Queen Mary Sailing Club 12 January 2019
John Merricks Tiger Trophy, Rutland Sailing Club 2 & 3 February 2019
Oxford Blue, Oxford Sailing Club 16 February 2019
You can find out more about the Series here: www.SailJuiceSeries.com
Photo Credits: Tim Olin
Current and previous winners of the Seldén Sailjuice Winter Series
2017/18 Alistair Goodwin (Laser)
2016/17 Matt Mee & Emma Norris (RS200)
2015/16 Ian Dobson & Andy Tunnicliffe (GP14)
2014/15 Nick Craig & various crews (Merlin Rocket)
2013/14 Michael Sims (Solo)
2012/13 Tom Gillard & Simon Potts (Fireball)
2011/12 Peter Gray & Rachael Rhodes (Scorpion)
2010/11 Andy Peake (Musto Skiff)
2009/10 Olly Turner & Richard Whitworth (Merlin Rocket)
SailJuice.com is the 'how to sail and race faster' website, with hundreds of articles and exclusive interviews with National, World and Olympic Champions. Professional sailing journalist and editor of SailJuice.com, Andy Rice, came up with the concept of the SailJuice Winter Series (originally known as the SailJuice Global Warm-Up) as a way of increasing participation levels in dinghy racing during the off-season in the UK.
SailRacer manages event websites and processes online entry for major National, International, Youth and training events, providing online scoring, analysis and advanced sports presentation including GPS tracking and live video.
Seldén Mast Ltd is the world leader in dinghy spars. More races are won by Seldén Spars than any other brand. Dinghy spars are made using 6082T6 aluminium with CNC cut tapers, automated welding and heat treating resulting in the highest quality and most consistent dinghy spars available. Seldén produces about 400 carbon masts per year for boats including high performance dinghies and race yachts.
29/12/2018 10:30