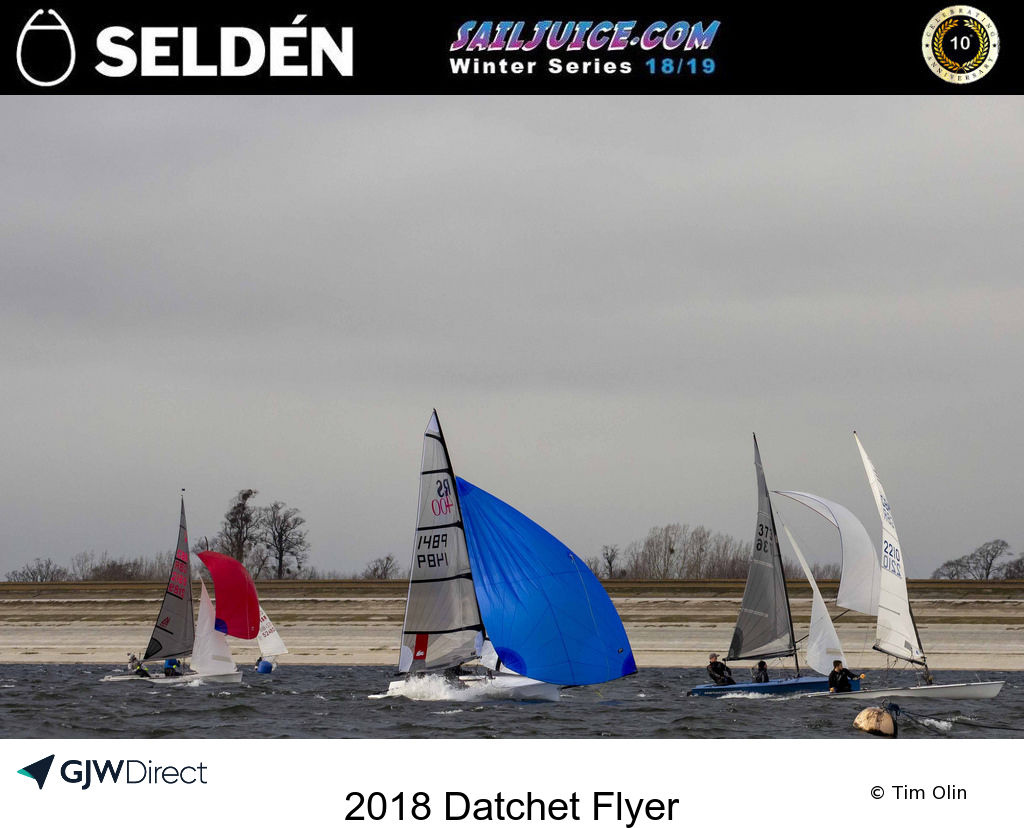 Reigning National Champion Richard Smith brought his RS600 safely into land despite the gale-force gusts on Datchet Water at the weekend
Richard Smith 'kiddy rigged' his way to victory at the Datchet Flyer as he expertly navigated his way through 30-plus knot gusts in the second round of the Selden SailJuice Winter Series.
It's been a while since a high-wind event in the Winter Series, but anyone praying for some breeze to stretch their legs perhaps got more than they bargained for at the reservoir beneath Heathrow Airport's flight path. On Saturday, three back-to-back handicap races saw a high rate of attrition in the 83-boat mixed handicap fleet. The 420s revelled in the strong winds which increased throughout the day, and at the end of the first day it was a 420 1-2-3 on the scoreboard with 10-year-old Harry George crewed by his father James who were leading the way.
Sunday dawned to a slightly less stormy but still very gusty Datchet Water, with the prospect of a single, double-points non-discardable Pursuit Race. Using a split start for the Slow and Fast Handicaps, this gave more race time for the faster boats than a standard pursuit race format. Val Millard planed across the Slow Handicap finish in first place aboard her Challenger trimaran, painted in a colour of red not dissimilar to the legendary Red Baron's Fokker triplane from World War One. "There were a few hairy moments in the gusts," said the 70-year-old competitor. "At one point I had water almost up to my waist, but it was great fun."
In the Fast Handicap Sam Mettam and Tim Saunders just kept ahead of the chasing Contender of Iain Horlock to win their pursuit race. Harry and James George had been vying for the lead until a whomping gust knocked their 420 flat and saw their chances of overall victory sink, but James was elated with their performance all the same. "Harry sailed incredibly and to finish 8th overall, I'm over the moon." At 10 years old, Harry was the youngest competitor with the oldest ranging up to 78 years, racing in 40 classes ranging in speed from the Topper to the International Moth.
Like almost every competitor, the 50-something Richard Smith was exhausted yet delighted with his weekend. "I looked at the forecast on Windguru and decided to go for the smaller 'kiddy rig' in the 600," said the Wilsonian sailor. "As it turned out, the first race wasn't that windy and I came 32nd. I was thinking about coming in to switch up to the full rig but I'm glad I didn't because the wind really kicked in later for races two and three. Going for the smaller rig was safer and it was better for me as it's a lot less knackering too!" The Pursuit Race played to the strengths of the RS600 too. "There was a lot of fast reaching and not much chance for the asymmetrics to fly their gennakers, so it was a perfect course and conditions for the 600 today."
Smith won by a single point from Megan Ferguson and Ellie Driver who sailed a superb series in their 420, who in turn finished just a point ahead of Alistair Goodwin in a Laser.
A total of 39 boats has competed in the first two events of the season, and after Draycote and Datchet it's the defending champion Alistair Goodwin who takes the top spot. Up to second and third overall are two other former winners of the Series, Tom Gillard in his Solo and Peter Gray and his crew in the three-man National 18.
Round 3 of the Series, the Yorkshire Dales Brass Monkey is already booked up and running a waiting list. Round 4 follows soon afterwards, with the Grafham Grand Prix still taking entries for 30 December. As ever, the sooner you enter the more likely you are to get a place: www.sailjuiceseries.com
THE EVENTS
The following events constitute the Seldén SailJuice Winter Series 2018/19:
Fernhurst Books Draycote Dash, Draycote Water Sailing Club
17 & 18 November 2018
Datchet Flyer, Datchet Water Sailing Club
8 & 9 December 2018
Brass Monkey, Yorkshire Dales Sailing Club
27 December 2018
Grafham Grand Prix, Grafham Water Sailing Club
30 December 2018
Bloody Mary, Queen Mary Sailing Club
12 January 2019
John Merricks Tiger Trophy, Rutland Sailing Club
2 & 3 February 2019
Oxford Blue, Oxford Sailing Club
16 February 2019
You can find out more about the Series here: www.SailJuiceSeries.com
Further Information for media:
Photo Credits: Tim Olin
Notes to editors:
Current and previous winners of the Seldén Sailjuice Winter Series
2017/18 Alistair Goodwin (Laser)
2016/17 Matt Mee & Emma Norris (RS200)
2015/16 Ian Dobson & Andy Tunnicliffe (GP14)
2014/15 Nick Craig & various crews (Merlin Rocket)
2013/14 Michael Sims (Solo)
2012/13 Tom Gillard & Simon Potts (Fireball)
2011/12 Peter Gray & Rachael Rhodes (Scorpion)
2010/11 Andy Peake (Musto Skiff)
2009/10 Olly Turner & Richard Whitworth (Merlin Rocket)
SailJuice.com is the 'how to sail and race faster' website, with hundreds of articles and exclusive interviews with National, World and Olympic Champions. Professional sailing journalist and editor of SailJuice.com, Andy Rice, came up with the concept of the SailJuice Winter Series (originally known as the SailJuice Global Warm-Up) as a way of increasing participation levels in dinghy racing during the off-season in the UK.
SailRacer manages event websites and processes online entry for major National, International, Youth and training events, providing online scoring, analysis and advanced sports presentation including GPS tracking and live video.
Seldén Mast Ltd is the world leader in dinghy spars. More races are won by Seldén Spars than any other brand. Dinghy spars are made using 6082T6 aluminium with CNC cut tapers, automated welding and heat treating resulting in the highest quality and most consistent dinghy spars available. Seldén produces about 400 carbon masts per year for boats including high performance dinghies and race yachts.
14/12/2018 14:58