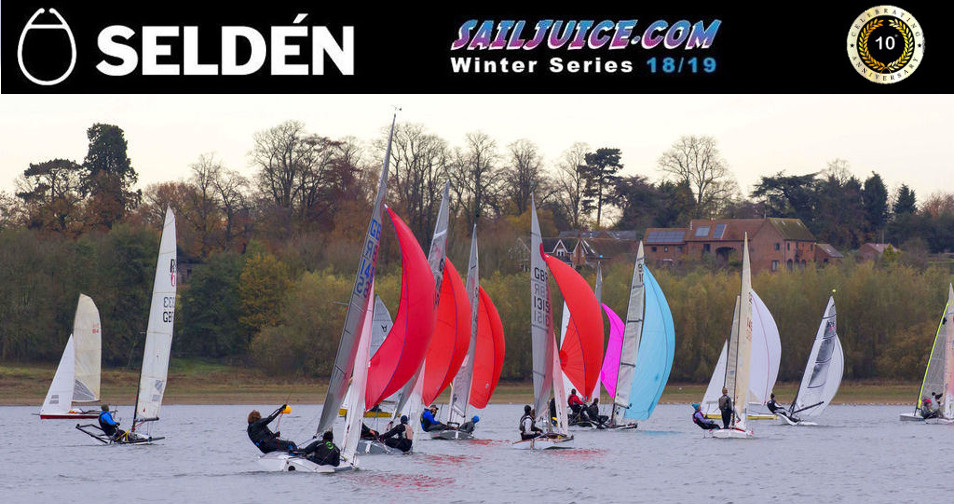 With a record entry and near tropical conditions forecast, it looks like a great weekend ahead. Selden SailJuice Winter Series Round 1, Fernhurst Books Draycote Dash.
Online Briefing There will be no briefing at the club, please take time to look at the Online Briefing that covers the key aspects of the event, including arrival logistics.
Saturday Key Times
Registration - 0830 – 1045
First possible signal : 11.00
Sailing Instructions
Selden Water Bottles
Series sponsors are providing every competitor with a water bottle, which can be picked up when you collect your tracker.
SailRacer GPS trackers
As per the SIs it is mandatory to carry a GPS tracker whilst racing. All trackers must be returned each day. Trackers can be collected at 10.00
Great British Sailing Challenge (GBSC) SpeedSix Stickers
All entrants will automatically be entered in the GBSC. SpeedSix have provided some great stickers and prizes for best display seen in one of the official Tim Olin photos. Pick your stickers up when you collect your tracker and Selden Water Bottle.
http://www.sailingchallenge.org
20% off Fernhurst Books
Thanks to the generosity of event sponsors, all competitors will be eligible to a 20% discount off Fernhurst Books over the weekend, with their vast range of water based titles on display at the club
16/11/2018 12:43