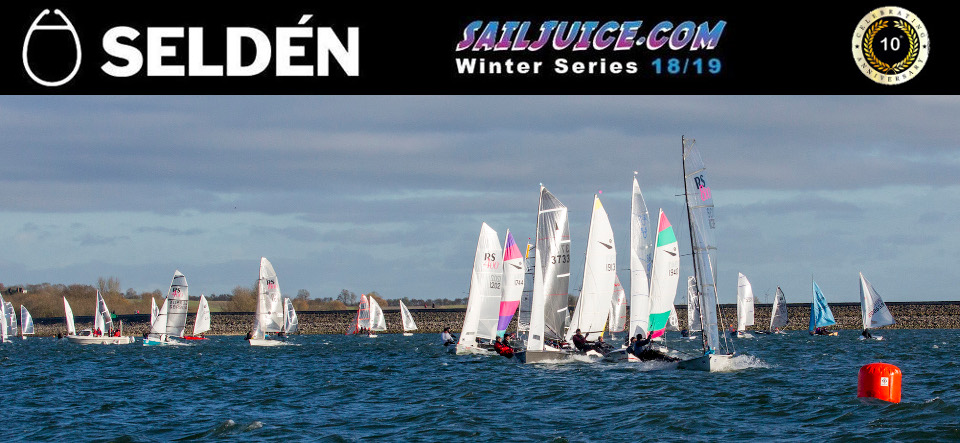 LAST MINUTE RUSH FOR THE DASH. More than 90 already signed up for Selden SailJuice Winter Series #1, but be quick if you want to join them, advance entry only and closes today (Sun)
Enter Here Entry to next weekend's Fernhurst Books Draycote Dash closes end of play Sunday 11 November 2018, so be quick if you want to join the 70-plus boats already signed up to the first event of this season's Seldén SailJuice Winter Series.
Former Bloody Mary winners in an International 14, and national champions in multiple classes, Roger Gilbert and Ben McGrane have teamed up in a 505 for the coming season and are set to compete at Draycote Water in their new boat. Tom Gillard has previously won this event at the back of a 505 but this year is racing his Solo.
Other notables include former Winter Series winners such as Michael Sims, back in a RS400 with Andrew George, and Nick Craig and Emma Clarke in a Merlin Rocket. Rachael Rhodes won in a Scorpion back in 2011/12 crewing for Peter Gray, and is set to crew for Grahame Newton this time around. Andrew Snell finished runner-up in last season's Winter Series and is now joined by two other K1 keelboats. The K1s will favour lighter conditions whereas National Champion Kevin Hope and the other Fireballs will be among those to watch if it's a windy weekend, as will perennial participants in the winter season, the father/daughter RS800 combo, Ralph and Sophie Singleton. Keeping in the family spirit being encouraged by this – the 10th edition of the Seldén SailJuice Winter Series – are the son/father team of Ben and Simon Hawkes in their Osprey.
A few classes have targeted this event including the Challengers and Blazes who are out in force, along with the Hadron H2 with eight boats already entered for their winter championship.
There is no entry on the day, so get your entry in this weekend. The schedule is for three back-to-back handicap races on Saturday, first start no earlier than 11am, and a Pursuit Race on Sunday. You can watch the online briefing here: https://www.youtube.com/ watch?v=NCN6-rpEnbQ&feature= youtu.be
New entry limits for 2018 Brass Monkey
After a review last weekend of current water levels at Yorkshire Dales SC and anticipated rainfall, the Brass Monkey Steering Group have reluctantly concluded that water levels are currently too low to run the usual 100-boat event. Therefore it has been decided to restrict entries to 70 boats for the Selden SailJuice Winter Series Round 3. If you're intending to compete in the 2018 Brass Monkey, best to enter now, particularly as the event is regularly oversubscribed even when operating at 100-boat capacity.
THE EVENTS
The following events constitute the Seldén SailJuice Winter Series 2018/19:
Fernhurst Books Draycote Dash, Draycote Water Sailing Club
17 & 18 November 2018
Datchet Flyer, Datchet Water Sailing Club
8 & 9 December 2018
Brass Monkey, Yorkshire Dales Sailing Club
27 December 2018
Grafham Grand Prix, Grafham Water Sailing Club
30 December 2018
Bloody Mary, Queen Mary Sailing Club
12 January 2019
John Merricks Tiger Trophy, Rutland Sailing Club
2 & 3 February 2019
Oxford Blue, Oxford Sailing Club
16 February 2019
You can find out more about the Series here: www.SailJuiceSeries.com
Photo Credits: Tim Olin
Notes to editors:
Current and previous winners of the Seldén Sailjuice Winter Series
2017/18 Alistair Goodwin (Laser)
2016/17 Matt Mee & Emma Norris (RS200)
2015/16 Ian Dobson & Andy Tunnicliffe (GP14)
2014/15 Nick Craig & various crews (Merlin Rocket)
2013/14 Michael Sims (Solo)
2012/13 Tom Gillard & Simon Potts (Fireball)
2011/12 Peter Gray & Rachael Rhodes (Scorpion)
2010/11 Andy Peake (Musto Skiff)
2009/10 Olly Turner & Richard Whitworth (Merlin Rocket)
SailJuice.com is the 'how to sail and race faster' website, with hundreds of articles and exclusive interviews with National, World and Olympic Champions. Professional sailing journalist and editor of SailJuice.com, Andy Rice, came up with the concept of the SailJuice Winter Series (originally known as the SailJuice Global Warm-Up) as a way of increasing participation levels in dinghy racing during the off-season in the UK.
SailRacer manages event websites and processes online entry for major National, International, Youth and training events, providing online scoring, analysis and advanced sports presentation including GPS tracking and live video.
Seldén Mast Ltd is the world leader in dinghy spars. More races are won by Seldén Spars than any other brand. Dinghy spars are made using 6082T6 aluminium with CNC cut tapers, automated welding and heat treating resulting in the highest quality and most consistent dinghy spars available. Seldén produces about 400 carbon masts per year for boats including high performance dinghies and race yachts.
11/11/2018 11:20