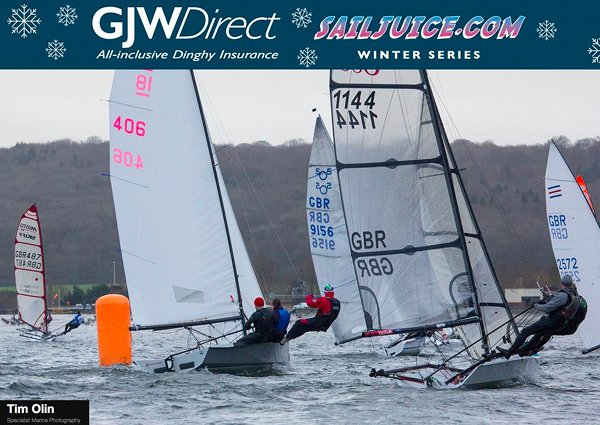 GJW Direct Sailjuice Winter Series, The Finale: Four-Way Boat Race at this weekend's Oxford Blue
This Saturday's Oxford Blue sees four boats in with a chance of winning the GJW Direct SailJuice Winter Series. Ben Schooling sits in pole position aboard his Musto Skiff and, as winner of last year's Oxford Blue, looks like a strong bet for overall victory. However Craig Williamson is just behind in second place, having raced his Laser to victory at the first event of Series back in November, the Fernhurst Books Draycote Dash.
Waiting to pounce further back down the rankings is the RS200 of Matt Mee and Emma Norris who won consecutive events at the Datchet Flyer and the Yorkshire Dales Brass Monkey. And there's another dark horse in the form of RS400 team, Chris Pickles and Matt Sharman, also within striking distance of outright victory.
With 137 entries already in, it looks like the 150-boat limit will be reached before online entry closes at midnight on Thursdayevening, 16 February. If you move quickly, you might still get a place: www.sailjuiceseries.com
By far the biggest class turnout for the season finale is by the RS Aero 7, with 31 boats currently signed up for Oxford. Along with five RS Aero 5s and eight RS Aero 9s, the total entry for the event, which also serves as the RS Aero Winter Championships, stands at 44. Just fighting for clear air off the start line and escaping the singlehander traffic will be a feat in itself, and could prove one of the challenges for Williamson if he's to challenge for overall victory in his Laser.
There will be many races within the race, and there are still more than 30 boats with a chance of making the top 10 overall in the Series. Here's a round-up of some of the other contests going on…
Allen Rankings
The Allen rankings calculate the improvements in relative corrected times of each sailor to the front of the fleet in each race. At Rutland, although the light conditions didn't really suit the foiling Moths, they managed to show the best relative improvements across the day to top the Allen Rankings, with Thomas Lambert, Matthew Lea and Neil Barker taking 1st, 2nd, and 4th spots respectively. Rob Lennox (D-Zero) in 3rd managed to split the Moth sandwich. After the penultimate Round, Craig Williamson (Laser) holds onto top spot in the Allen rankings with Nigel Austin (D-Zero) climbing to 2nd and Nick Craven (RS Aero 7) to third.
Dinghy Rope Top Class Rankings
Heading into GJW Direct SailJuice Winter Series final round, defending champions, the Laser Class, have knocked the RS200s off top spot and down to 2nd. The Merlins climb four places to 5th. Based on the best three results from each class across every race, the Dinghy Rope Top Class Rankings are looking very close, with any of the top 10 classes potentially able to win with a good set of results at the Oxford Blue.
Trident Top Club Rankings
Making steady progress up the Trident Top Club Rankings, fielding a strong team at each of the GJW Direct SailJuice WinterSeries, Datchet have seized top spot as we head into the final round. Carsingston who led the Trident Top Club Rankings after Round 3, slip down to second, with Grafham and Northampton making gains to climb to third and fourth places respectively.
GJW Direct SailJuice Winter Series Prizegiving at the RYA Suzuki Dinghy Show
Series organisers Andy Rice and Simon Lovesey will present a review of the 2016/17 Series, which has seen record numbers and some very close racing featuring many of the country's top sailors from 89 classes. The prizegiving will be held on Saturday 4th March (10.30am) in the Coaching Area.
Harken Youth and Junior Rankings
There was a strong youth turnout at the Tiger Trophy for GJW Direct SailJuice Winter Series, #6. RS200 sailors Chay Taylor and Niamh Davies topped the Harken rankings with an excellent 11th overall for the Tiger Trophy. Haydn Griffiths (Laser) was 2nd and Jack Lewis and Charlie Bacon (420) completing the podium in 3rd. For the overall Harken Youth and Junior Rankings, George Coles (Laser) holds onto top spot and is looking unstoppable, with Eleanor Craig (Radial) still in 2nd. Young Tim Hire (RS Aero 7), jumps three places to third overall and top junior.
GUL Lady Rankings
Ann Jackson made it three bullets in a row at the Tiger Trophy, to jump three places to top the GUL Top Lady rankings after the penultimate round of the GJW Direct SailJuice Winter Series. Eleanor Craig (Radial), Alice Woodings (Radial) and Jackie Craven (RS Aero 7), all slip one place to 2nd, 3rd and 4th respectively.
SpeedSix Challenge
Looking at the overall SpeedSix rankings (adjusted speeds) after two rounds is Mark Barnes and Charlotte Jones (B14) who sit at the top from Ralph and Sophie Singleton (RS800) and the Comet Trio of Alex Horlock.
GJW Direct SailJuice Winter Series photos
Tim Olin has taken 1,200+ fantastic pictures from the Winter Series, now you can buy prints and canvas of your favourite moments. Search by sailor, sail number, class and event.
Videos
Relive all the action from the GJW Direct SailJuice Winter Series with the SailRacer round-up videos.
http://gjw.sailracer.org/ eventsites/content.asp?id= 45653&eventid=207915&video& uid=20837592
THE EVENTS
The following regattas constitute the GJW Direct SailJuice Winter Series 2016/2017:
Draycote Dash, Draycote Water Sailing Club
Saturday 19 & Sunday 20 November 2016
Datchet Flyer, Datchet Water Sailing Club
Saturday 10 & Sunday 11 December 2016
Brass Monkey, Yorkshire Dales Sailing Club
Tuesday 27 December 2016
Grafham Grand Prix, Grafham Water Sailing Club
Monday 2 January 2017
Bloody Mary, Queen Mary Sailing Club
Saturday 7 January 2017
John Merricks Tiger Trophy, Rutland Sailing Club
Saturday 4 & Sunday 5 February 2017
Oxford Blue, Oxford Sailing Club
Saturday 18 February 2017
Article Author Andy Rice 16/2/2017 09:16