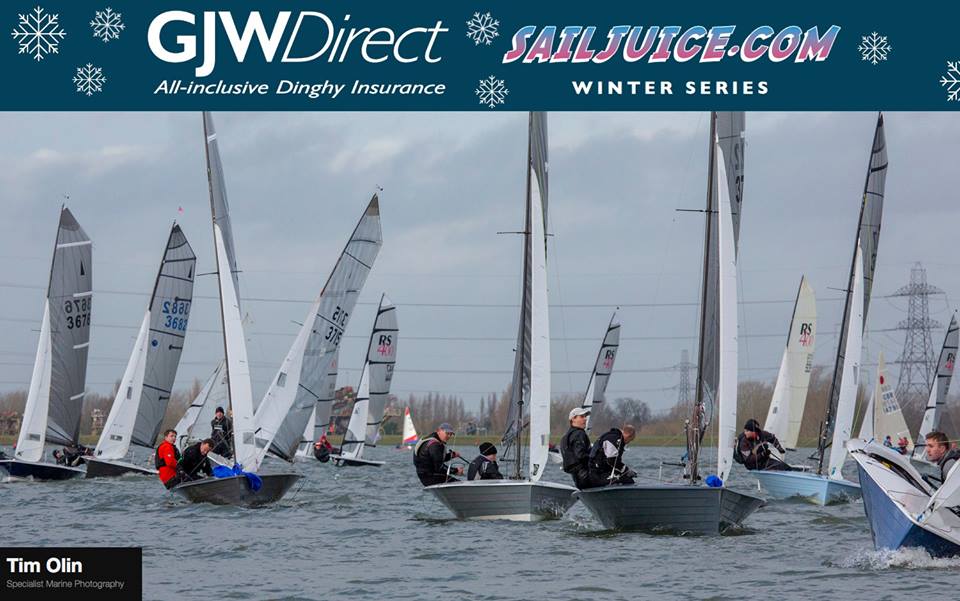 Bloody Mary bulging at the seams with 257 entries. See Andy Rice's event review
The Bloody Mary is set to be a humdinger this Saturday, with 257 boats already signed up for the world's most famous dinghy pursuit race. Queen Mary Reservoir near Heathrow in West London is the venue where more than 400 sailors from 60 classes, representing more than 150 sailing clubs, will contest the race that kicks off with the slowest boats at midday and concludes with a rolling finish line at 2.30pm.
Recent years have seen the faster boats come through to win the race, not least Neale Jones and Ed Fitzgerald who won a year ago in their International 14. The duo are back to defend their title, with Ed's dad, Andy Fitzgerald also having a go in a 14, crewed by Harvey Hillary. However, with the breeze forecast to drop during the afternoon, perhaps this will be a year for the slower boats to shine.
With more entries expected on the day, total numbers could well exceed 300, or maybe even hit the 350 entry limit. It's on a first-come, first-served basis, and entry on the day opens at 8.30am. Meanwhile here's an update on the GJW Direct Sailjuice Winter Series, which has just gone past the half-way mark….
Series Results Update on GJW SailJuice Winter Series rankings
After four rounds out of seven, the various rankings are starting to shape up, although with four events to count the results are still wide open with many sailors still in with a chance.
Overall rankings
Round 1 winner Craig Williamson (Laser) still tops the overall leader board and there is little change to the top 10. But just outside the top 10 there are several boats counting three results, such as Matt Mee and Emma Norris (RS200), round 2 and 3 winners, which once the discard kicks in after the Bloody Mary, are likely to be knocking on the top of the rankings.
Harken Youths and Juniors
At Grafham, Tim Hire (RS Aero 7) managed to finish top Youth, with George Coles (Laser) 2nd and Krishan Bhogal (Radial) 3rd. In the overall Harken Youth rankings after GJW Direct SailJuice Winter Series round 4, George Coles (Laser) jumps back to the top, pushing Eleanor Craig (Radial) down to second and Thomas Woodings (Radial) third.
GUL Top Lady
Ann Jackson (Enterprise) and winner of the 2015 Datchet Flyer was GUL Top Lady at Grafham, winning from Caroline Whitehouse (RS400) and Sue Antonelli (RS200) third. In the overall GUL Top Lady Rankings after GJW Direct SailJuice Winter Series 4, Alice Woodings (Radial) jumps to the top, with Jackie Craven (RS Aero 7) second, and defending champion Eleanor Craig (Radial) down to third.
Allen Best Improver
Based on the trend of corrected times and SailRacer GPS data (when available), compared to the top 10 in each race to see who is making the most improvement across each event. For the GJW Direct SailJuice Winter Series #4, Kevin Moll (D-Zero) showed the best improving performance across the 3 races, with John Tuckwell and Max McCarroll (Hurricane SX) second and local David Jessop and Sophie Mear (RS200) third.
Dinghy Rope Top Class
Defending champions, the Laser class have held onto top spot for the first three rounds, but another strong RS200 performance saw them pushed down to second. The Fireball class gained one place to jump on to the podium for the first time this series.
Trident Top Club
Carsington and Datchet held onto first and second places respectively, but after such domination at their home event Grafham jumped three places to jump onto the podium.
Brass Monkey Video
See the official Round-up from GJW Direct SailJuice Winter Series Round 3, with some great drone footage from EaglesInTheSky.com
https://www.youtube.com/watch? v=yKvWCylxS1Y
SpeedSix Challenge
Again with lights winds at Datchet, speeds recorded from the SailRacer GPS trackers were on the low side, so it was impressive to see the F18 and F16 cats getting into double figures and sailing quite a bit faster than the actual wind speed. On Saturday the F18 of William Sunnucks and Freddie White were the fastest boat on the water by some margin both on an actual and adjusted basis.On Sunday, it was the turn of the new Nacra 15 of Grant Piggott and Molly Desourgher to see the fastest actual speed recorded on the SailRacer GPS trackers. Jonathan Carter (Vortex) was fastest on adjusted speeds. Combining all the speeds across all races, it was Ben Schooling (Musto Skiff) who came out on top. All these sailors won some great SpeedSix gear. Looking at the overall SpeedSix rankings (adjusted speeds) after 2 rounds of GJW Direct SailJuice Winter Series, Mark Barnes (B14) sits at the top ahead of Ralph and Sophie Singleton (RS800) and the Comet Trio of Alex Horlock.
Winter Cat Series
After Round 2 for the new GJW Direct SailJuice Winter Cat Series, Will Sunnocks maintains top spot, showing great pace in the F18 at Datchet and F16 at Grafham. Youth sailor William Smith swapped the F16 for a Spitfire at Grafham to sit in 2nd overall position. John Tuckwell completed the podium sailing a Hurricane SX at both events. The final round is the Tiger Trophy (Sunday) at Rutland.
http://events.sailracer.org/ev entsites/content.asp?id=45784& eventid=207915
5/1/2017 18:25