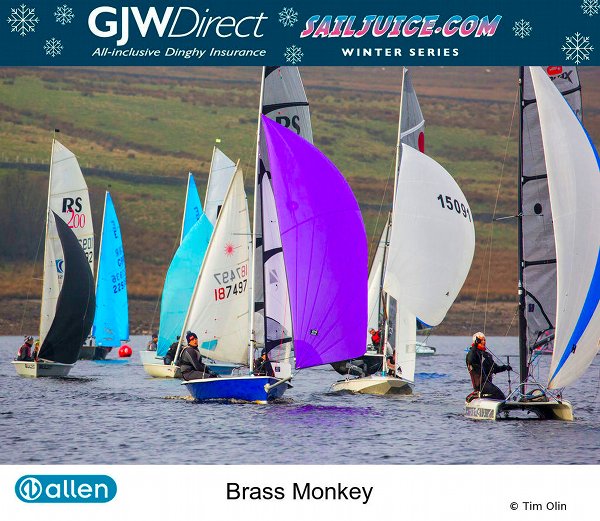 It's Mee who wins again at the Brass Monkey, but only by a second. With storms Barbara and Conor lining up to batter the UK over Christmas it was looking touch and go for The Brass Monkey at Yorkshire Dales Sailing Club - the third round of the GJW Direct SailJuice Winter Series. On the day, the 98 competitors (from an entry of 102) were greeted by a gentle force 1-2 breeze and although cold, it was at least dry.
With only 45 minutes to the start half the lake disappeared into a low cloud but by the start that had cleared and the three fleets started in faint sunshine. Race Officer Mike Saul had set a course with a long beat and run then a couple of shorter reaches before a short beat back through the gate.
First fleet away were the 'slow single-handers'. Andrew Snell hadn't read the 'slow' part of that and shot off into a decent lead in his shiny new Supernova followed by a gaggle led by Paul Bartlett's RS Aero 7, Graham Tinsley, Jack Hopkins and Haydn Griffiths in Lasers and Nick Craig's OK.
Photos In the 'slowish hiking mostly two-person but with some singlehanders!' start those that weren't confused by that fleet started best and included Matt Mee / Emma Norris plus Keith Escritt / Andrea Clough in RS200s, Neil Marsden / Ellie Devereux in a GP14 and Steve Walker / Andy Service in a Scorpion. The fast fleet was led away by Matty and James Lyons in the 49er with the Musto Skiffs of Jono Shelley and Josh Moran in hot pursuit.
With the light winds it was soon plain to see that the faster boats weren't going to have a good day with only the RS400 of Chris Pickles and Matt Sharman making any headway to finish 11th. The first singlehander on the water was still Snell but the real battle was a little behind and only resolved on the final run where Craig just gained a vital overlap on Tinsley as they both gapped Hopkins by a few boat lengths - those three finishing a very close 4th 5th and 6th .
Meanwhile Mee / Norris had slowly increased their lead on Escritt / Clough who themselves had come under pressure from Henry Raistrick / Lucy Ferguson's RS200, finishing 7th and 8th respectively. But the real question was how close was Marsden's GP to the Supernova and leading 200? The answer was not close enough - with the race win going to Mee / Norris, second to Snell and third to Marsden / Ellie D.
The fantastic free lunch and drinks was very welcome and while the trapeze classes were praying for more wind, most had enjoyed a good race with great competition from front to back of the fleet.
Race two started with the singlehanders being led again by Snell's Supernova but this time Hopkins was close in his Laser and significantly out in front of Craig's OK and Craig Williamson in another Laser while Tinsley had started badly.
Rob Patterson (Phantom) had figured out the fleet split and led away from the next start with Mee / Norris close behind and Marsden / EllieD's GP even closer. Leading youths Raistrick / Ferguson were next with fellow RS200 and only 'slightly older' Escritt / Clough battling them and the Scorpion duo of Walker / Senior downwind. A pile-up with some Lasers at the leeward mark left the youths doing turns and put them out of contention with fellow youngsters Emma Clayton / Faye Caswell benefiting to now threaten the leading 200s.
Again, although the 49er led, it was only the RS400 of Pickles/Sharman that was in contention from the faster fleet as the breeze showed signs of increasing with occasional bursts of planing on the reaches but for the most part remained fairly consistent in strength and direction, making hiking boats the weapon of choice and careful tactical decisions vital.
After a long race with interesting battles throughout the fleet, and after the Great Lakes handicaps had been applied, the first of the faster boats in 10 th were Pickles /Sharman in their RS400. The RS200s of Clayton / Caswell and Escritt / Clough were 9th and 8th respectively. Tinsley had passed Williamson to finish 5th with Snell 6th in a Laser sandwich. In 4th was Nick Craig in his OK leaving the top three as Hopkins, Mee and Marsden.
To win overall, Marsden /EllieD needed to win the last race with Mee/Norris 3rd or worse. Had he done it? Well Marsden did his part, winning the race and now hoping for the Laser to snatch second from the RS200. Results calculated, checked, rechecked and verified and (drum roll please) Hopkins' Laser was just one second behind Mee / Norris. CLOSE!
So winners for the second event on the trot in the GJW Direct SailJuice Winter Series were Matt Mee and Emma Norris (Burghfield) in an RS200. Mee also successfully defended his Brass Monkey victory from a year ago. So close they could feel it were Neil Marsden and Ellie D (Blackpool and Fleetwood) in the GP14 and completing the winners rostrum was Andrew Snell (Datchet) in his new Supernova - thanks Santa. Fourth was Nick Craig (Frensham / Burghfield) in the OK just in front of the Lasers of Graham Tinsley (Yorkshire Dales) and Jack Hopkins (Delph). Keith Escritt / Andrea Clough (Yorkshire Dales) were 7 th in an RS200 while Haydn Griffiths (Leigh & Lowton) in another Laser got 8th on countback from Chris Pickles / Matt Sharman's RS400 (Delph). Emma and Faye (RS200 – Yorkshire Dales) completed the top ten.
Apologies to all who waited while the results were delayed – the results programme has its 'little ways' of throwing the whole process into utter confusion and unfortunately this was one of those times.
Nothing could however spoil another great event at Yorkshire Dales SC - with an incredibly tight finish to add to the excitement. Congratulations to the winners and all who competed and huge thanks to the army of volunteers who helped run the day – too many to mention, but you know who you are and deserve our sincere thanks.
Meanwhile Event #4 is coming up quickly, the Grafham Grand Prix this Bank Holiday Monday 2nd January 2017. With 148 entries already registered and a last-minute rush on the cards before the online entry deadline of 8pm on Friday night, 30 December, it's quite possible that the entry limit of 200 will be reached before race day. Best to get your entry in now and save paying the £5 additional late entry fee, or possibly not getting an entry at all. This is also the second event in the Winter Cat Series with big names such as Will Sunnucks and Grant Piggott lining up to compete in the multihull fleet.
Enter the Grafham Grand Prix here: www.sailjuiceseries.com
Report by Keith Escritt, Yorkshire Dales Sailing Club
THE EVENTS
The following regattas constitute the GJW Direct SailJuice Winter Series 2016/2017:
Draycote Dash, Draycote Water Sailing Club
Saturday 19 & Sunday 20 November 2016
Datchet Flyer, Datchet Water Sailing Club
Saturday 10 & Sunday 11 December 2016
Brass Monkey, Yorkshire Dales Sailing Club
Tuesday 27 December 2016
Grafham Grand Prix, Grafham Water Sailing Club
Monday 2 January 2017
Bloody Mary, Queen Mary Sailing Club
Saturday 7 January 2017
John Merricks Tiger Trophy, Rutland Sailing Club
Saturday 4 & Sunday 5 February 2017
Oxford Blue, Oxford Sailing Club
Saturday 18 February 2017
29/12/2016 11:48