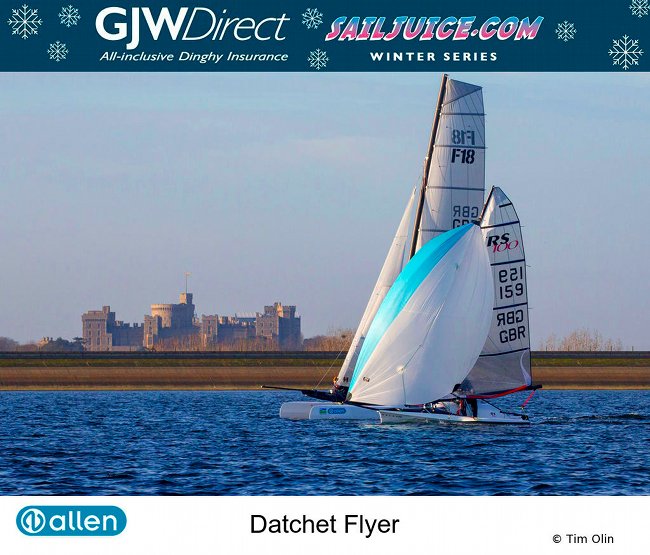 Mee & Norris's RS200 dominates Datchet Flyer
Matt Mee and Emma Norris from Burghfield sailed their RS200 to a dominant victory at the Datchet Flyer, the second event of the GJW Direct SailJuice Winter Series. Behind them was a much tighter battle for the other podium places on a predominantly light airs weekend that attracted a sell-out entry of 100 boats including a number of multihulls that entered the first event of the Winter Cat Series.
Results While Mee's two victories from Saturday's three races put the leading RS200 out of reach, Ben Schooling continued to outperform the other Musto Skiffs as he always does in this style of close-quarters handicap racing to win the middle race of Saturday and do enough in Sunday's pursuit race to clinch second overall by just two points ahead of another RS200, Ben Palmer and Rheanna Pavey who finished third overall. Finishing on equal points with Palmer but missing out on the tiebreak was Mike Lyons sailing his Halo singlehander.
GPS Tracking The Datchet Flyer is unusual in running a split-start pursuit race format on the Sunday, which means the faster boats enjoy a longer race than with the traditional format. So there were two winners of Sunday's race, with Russ and Penny Clark running off with the fast division in their RS400 while GP14 World Champion Ian Dobson and Gemma Marshall won the slow division. Dobson, overall winner of last season's GJW Direct SailJuice Winter Series, improved his overnight position to fifth overall, just a point behind Lyons' Halo. A point further back from Dobson was Craig Williamson, who had sailed his Laser to such devastating effect at the first event of the series in November, the Fernhurst Books Draycote Dash.
In the Winter Cat Series, Brightlingsea's Will Sunnucks and Freddie White finished 15th overall in their Formula 18 to take an early lead in the Winter Cat Series. The conditions at Datchet didn't suit the multihulls and Sunnucks had to sail well to find clear air for his cat to stretch its legs. With a bit more breeze he might well have been challenging for the front places. Second of the multihulls was a Hurricane 5.9 sailed by John Tuckwell and Max McCarroll, with Andrew Dowley third in a Sprint 15.
Photos Grant Piggott is one of the big names in UK cat racing but he put his ego aside to race in a boat designed for lightweight youth sailors, the Nacra 15. "I'm a bit big for the Nacra 15, to put it mildly," laughed Grant, who was racing with the more diminutive Molly Desourgher on the weekend. "But it's great to get out and show the boat and hopefully encourage some others to get out and start racing cats in the Series."
Sadly a Merlin Rocket competitor, Ian Garwood, was taken ill during the pursuit race and retired to come ashore early when he collapsed onshore. He was taken by ambulance to Wexham Park Hospital where he passed away. Ian is fondly remembered as a friendly and enthusiastic member of the Merlin Rocket fleet having raced the boat successfully for many years, and will be sadly missed.
The next event in the GJW Direct SailJuice Winter Series comes up soon after Christmas when the Yorkshire Dales Brass Monkey takes place in the most spectacular surroundings on 27 December. Then it's on to the Grafham Grand Prix on 2 January 2017, also the second leg of the Winter Cat Series. Entries have been filling up early so far this season so secure your spot now and enter online at: www.sailjuiceseries.com
THE EVENTS
The following regattas constitute the GJW Direct SailJuice Winter Series 2016/2017:
Draycote Dash, Draycote Water Sailing Club
Saturday 19 & Sunday 20 November 2016
Datchet Flyer, Datchet Water Sailing Club
Saturday 10 & Sunday 11 December 2016
Brass Monkey, Yorkshire Dales Sailing Club
Tuesday 27 December 2016
Grafham Grand Prix, Grafham Water Sailing Club
Monday 2 January 2017
Bloody Mary, Queen Mary Sailing Club
Saturday 7 January 2017
John Merricks Tiger Trophy, Rutland Sailing Club
Saturday 4 & Sunday 5 February 2017
Oxford Blue, Oxford Sailing Club
Saturday 18 February 2017
14/12/2016 11:32