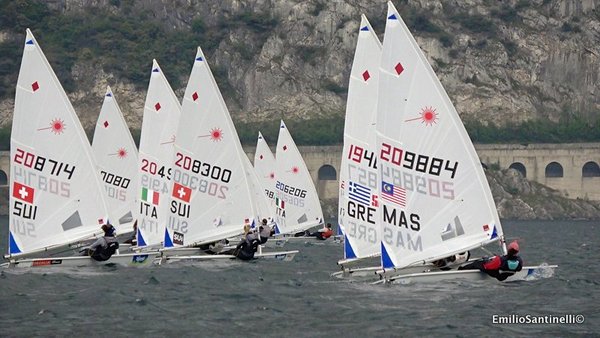 As EUROSAF Champions Sailing Cup Round 2 draws near to the conclusion : the weather once again proves difficult. Tomorrow the medal race is scheduled for the Lasers and another two races for the three paralympic classes.
Lake Garda – Winds were from the north this morning but with less intensity compared to Wednesday. The races for Garda Trentino Olympic Week went ahead regardless. This is the only leg in the Eurosaf Champions Sailing Cup. The Laser Standard and Radial were only able to complete one race at Fraglia Vela Riva as the second race was interrupted due to a drop in wind. At Fraglia Vela Malcesine, however the paralympic 2.4 Sonar and Skud classes were able to complete 2 races bringing them to a total of seven races altogether
and 5 for the Lasers.
Racing starts tomorrow at 9.00 am with hopefully the wind from the north. The medal race for the Lasers is scheduled with the first 10 of the respective classes Radial (women's) and Standard (men's) . The last race will be worth double points. The paralympic classes will try to have another two races.
Credit to the athletes, buoy- setters, regatta Committee and international jury, who during these last few days at Fraglia Vela Riva and Fraglia Vela Malcesine, have had to cope with difficult weather conditions. Every moment of wind, however, was made the most of with or without rain. So it's only fair that we should applaud the efforts of the staff who day after day did their best so as not to disappoint the competitors who have come from as far away as Malaysia, Uruguay, USA, Russia and Indonesia.

Laser Radial – 7 nations in medal race
The discard was brought in in the fifth race. The situation at the top of the table is quite even and anything is still possible. Karachaliou Vasileia of Greece is in first place 4 points ahead of Italian Valentina Balbi ( YC Italiano) and Dolores Moreira of Uruguay. Maelle Frascari (CC Aniene) is just two points from the podium.


Laser Standard - 6 nations in medal race
The top three positions are unchanged with only two points separating Teply of the Czech Republic and Komissarov of Russia. In third place, seven points behind is Nicolò Villa (CV Torbole). It wasn't a good day for Fraglia Vela Riva's Marco Benini who dropped into seventh place seven points from the podium.

Paralympic Classes
Two races were completed on the penultimate day with much less intense winds from the north compared to yesterday with another possible two races on Saturday.

2.4Mt
The winning streak of Australian Matt Bugg is relentless as today he took another first and a third to give him an 11 point lead over American Smith (2-1) and Salomaa of Finland both with 21 points. Italian Antonio Squizzato is in fourth place just 2 points behind the leaders so he is still in with a chance of a medal.

Skud
The first two positions are unchanged with only one point dividing Rickham-Birrell of Great Britain and Australians Fitzgibbon-Liesl, who were outstanding today picking up two firsts. Far behind by 10 points are Canadians McRoberts-Gay.

Sonar
The positions at the top of this class are also unchanged for the first two. Leading by one point are Brits Robertson-Stodel-Thomas over Australians Harrison-Boaden. The Spanish crew of Llobet Balcells-Alvarez-Gimeno is third while Italians D'Agaro-Pira-Solazzo are fourth trailing only by one point from a possible bronze medal.
13/5/2016 10:23